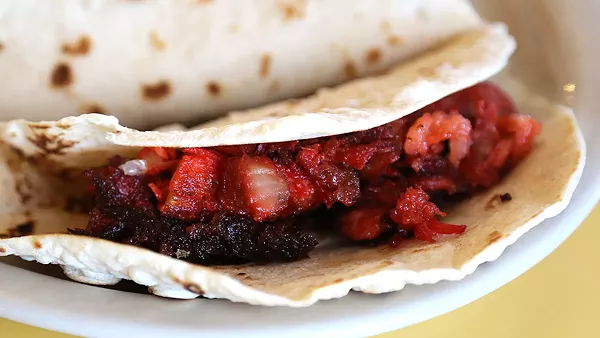 Ben Olivo
The chicharron prensado taco at La Capital del Sabor.
Reposted with permission from The Tacoist.

La Capital del Sabor in Leon Valley prides itself as, well ... What you might not ascertain from the name is that this is a Mexican seafood restaurant — a Mexican seafood restaurant that serves one of the most delicious pork tacos in the chicharron prensado.

This taco I had encountered only at Guerrero's on Rigsby. But the version there baffled me. It was more shredded pork with chopped up and fried pork skins embedded in the meat, supposedly. But there was no crunch. The taste was strange, and didn't register as chicharron the way I'm used to.

This chicharron prensado opened my eyes and tastebuds to a whole different world of pig. This was marinaded skins and meat — the meat still attached — fried in fat. So, not the puffed up skins we're used to but meat dangling from thin and crispy skin. All of it was red, but we couldn't crack the marinade code. The flavor was strong in pork, like carnitas, the marinade providing a muted note reminiscent of Chinese pork. The skins were super crunchy, the meat super soft. An excellent taco.
Before I go over the other tacos, I must mention the red sauce. By far the best chile de arbol sauce I've had. Usually, chile de arbol-based sauces are pure arbol chile, which has a strong and smoky flavor. This arbol sauce was almost fruity and vinegary. Its complexion wasn't dark red but slightly orange. Also, extremely hot.
The rest of the tacos we had were pretty good on about average flour and corn tortillas.
I was unfamiliar with chicken tinga, which is shredded and stewed chicken whose defining characteristic seems to be chipotle peppers in an adobo sauce. According to Google. Obviously some garlic and onion mixed in — a satisfying taco.
The potato ranchero had well-cooked potatoes and a basic garlicky and tomato-y ranchero sauce that kicked spicy on its own. The ham and egg — more thinly sliced ham rather than the cubed form — was fine but needed the smoky green salsa to moisten it some. The carne guisada was strong in chili powder, was a little chewy and overall about average.
I really enjoyed the machacado with its excellently seasoned meat, but the portion was tiny. The bean and cheese was a mildly subpar bean and cheese — my fellow taco enthusiast suspected the beans had been canned.
I will return to La Capital del Sabor for the chicharron prensado. And the seafood, I guess.

La Capital del Sabor, 7101 Bandera Road, (210) 200-8901.



Visit The Tacoist for more snapshots of San Antonio taquerias.