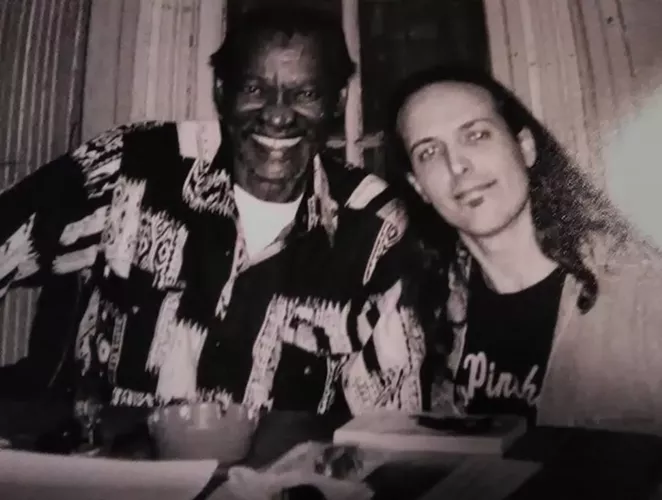 Via George Briscoe's Facebook page
Monte Adams (right) poses for a photo with legendary blues guitarist Gatemouth Brown.
Monte Adams, known for capturing San Antonio's blues scene in stark black-and-white photographs, has died at age 51, friends say.
Adams was found in his home Monday, according to a Facebook post by horn player George Brisco, who added that he didn't know the cause. As of press time, the
Current
was unable to confirm Adams' death with the San Antonio Coroner's Office.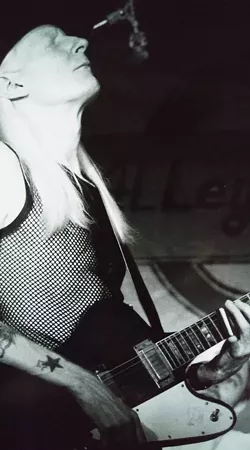 VIa Monte Adams' Facebook page
Monte Adams' photos, such as this one of Johnny Winter, helped document San Antonio's blues scene.
"I don't know of any photographer that went to the lengths he did to document what was going on in our scene," said Mike Davis, bandleader of the S.A. Blue Cats and a longtime board member of the
San Antonio Blues Society
. "And Monte knew everybody. ... You call any blues musician, and they're going to know him."
Recently, Adams had begun taping interviews with local musicians for his personal archive, Davis added.
Going back to the '80s, Adams was a fixture at live shows here and in Austin. When he wasn't snapping photos, he could be found dancing to a shuffle or sitting on a barstool, taking in a soulful jam with his eyes closed. Friends remember him as a gentle and encouraging man eager to champion the city's rich musical history.
"It was always a party with Monte there," said guitarist Will Owen Gage, who first met Adams at a San Antonio Blues Society jam session nearly 20 years ago. "You'd see him and know you were doing something right. Even if there was nobody else there, you had a reason to play."
Adams' Facebook page is a walk down musical memory lane, replete with his snaps of musical icons ranging from bluesman Johnny Winter to Tex-Mex legend
Freddy Fender to Spot Barnett, the saxophonist who helped craft S.A.'s West Side Sound. Also in the mix are his photos of obscure R&B 45s and matchbook covers from long-closed music venues.
"We should ... do a big send-off jam session for him," Brisco wrote on Facebook. "I think he would have wanted that."