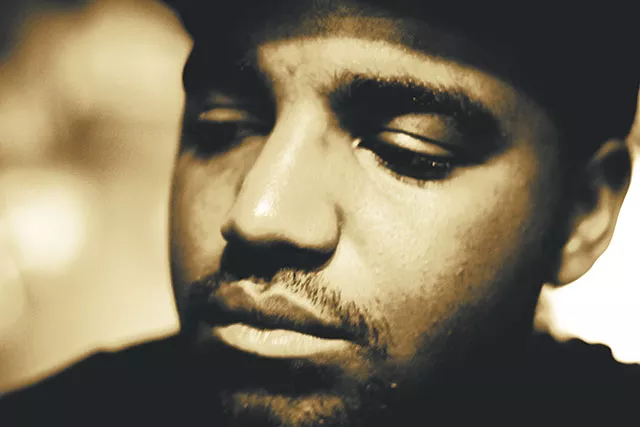 Courtesy photo
The prolific Mr. Composition
For this month's Beatdown, hip-hop events take a backseat to two important SA releases: Itzli y Chimalli's TXAMX (released March 29) and Mr. Composition's Graffiti the Mind (out May 2). The rappers represent excellent, self-released, socially conscious and original works from starkly different pockets of hip-hop activity in the 210.
Itzli y Chimalli fuse cultures with TXAMX LP
When asked to explain his incentive to stay in the game as he rounds 35, Alvaro "Itzli" Ramirez says, "Social justice motivates me. I can't stay away from the movement." For his part, Max "The Midax" Edman, nom de plume "Chimalli," says he loves hip-hop because it "allows for painting more detailed word-pictures than other types of song writing, which are way more limited on the amount of words they can use." Viewed in this light, Edman continued, hip-hop is "the ultimate vehicle for full expression."
Both rappers come across as adroit, bilingual storytellers on TXAMX, their second collaborative album. Strongly influenced by Edman's recent trip to Mexico City, TXAMX tells a story at every turn—through the grittily poetic lyrics laced with poignant and direct social commentary, and through Edman's exquisite beats, indiscriminately sampling hip-hop, funk and Tejano music. TXAMX is a refreshingly earnest and artistic rumination on cultural divides and misconceptions, the vapidity of mainstream rap and the struggle to remain true to yourself while providing for family. It's an album that seeks (mercifully) to counteract the vast majority of contemporary rap music that, in Edman's words, "keeps kids living in a materialistic and selfish fantasy, with a sadly false sense of masculinity." Favorite track: "Pocho Tongue / Barrio Slang," a banger with brains.
Mr. Composition Celebrates Graffiti the Mind
Kevin Prince, aka Mr. Composition, is one of the hardest workers in SA music. The 23-year-old has released at least one LP or mixtape every year since he was 18 (much of this material is available at mrcomposition.bandcamp.com). Last year's release, Running Red Lights Through Life, was one of my favorite local albums of 2013. It laid bare the rapper's growth from a curious and earnest wordsmith to a master of his craft, gifted at melding personal narrative with commentary on universal concerns.
Mental Graffiti: a Q&A with Mr. Composition
Graffiti the Mind, out on May 2, sees the emcee truly coming into his own. Produced by San Anto native Ruler Why, Graffiti the Mind features beats that enhance the meaning of individual songs. Prince rhymes with entertaining, engaging lyrics, delivered with a unique flare in diverse styles. As Prince told the Current, he has long used rap as "a means of expressing [himself] and [his] experiences and frustrations." As Prince has grown as an artist, he's expanded his scope, concerned now with broader societal issues. Most impressively, these aren't just raps; these are songs. Graffiti, anchored by the anthemic posse cut "Believe" and thought-provoking extended metaphor "Graffiti Lenz," is a joy to bump and communicates an unstoppably positive message: Be patient, work your ass off, ask questions and give of yourself if you want to receive anything in return. Don't miss the chance to see Graffiti done live at Fitzgerald's on April 25 ($5, 9pm, Fitzgerald's Bar, 437 McCarty, Ste 101, (210) 629-5141). Favorite track: "Pandora's Jukebox."