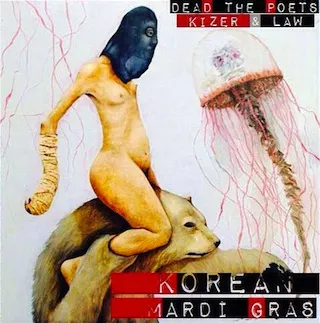 With Logic hitting the White Rabbit this Saturday, shows from Dizzy Wright, Future, Too Short and Kevin Gates on the horizon—plus shit like last Tuesday's ill Hip-Hop Locals showcase—there's plenty of hip-hop goodness here in the 210. As always, hit me up with all things hip-hop at beatdown@sacurrent.com.
Dead the Poets, Korean Mardi Gras 
Here's an album that is as good as it is overlong. While there's quite a bit of filler on this latest offering from Dead the Poets (SA duo of Kizer and Law), the strength of its best songs lies in the very same spirit of overkill that led the guys to release a 21-track album with a preposterous name. Law tells the Current that the album's title is "the best way to describe an outlandish experience in three words." Pressed further, he adds, "it's like discovering a new color and letting John Belushi name it." And oddly enough, that explanation really seems to fit.
Replete with bountiful hashtag-rap jewels like "Imma die large, John Candy," plenty of absurd wordplay and a regrettable, if expected, misogynistic vibe, Korean Mardi Gras is a crude and fun rap album that showcases this duo's gift for riding tricky beats and ever-improving production skills. Favorite line on the album goes to "Kim Jong Trill": "While you at the Poteet to flip your shitty mixtape, I'm rubbin' on your ho's feet and we gettin' shitfaced."