Scorpions have announced that they will not be coming to San Antonio (insert all the sad face emojis).
In a recent press release, the German metal band said that vocalist Klaus Meine had developed severe laryngitis and has been advised by a top throat specialist in Los Angeles to rest his voice.

The band continued saying "[we] truly hate to disappoint our fans and hope to come back to America soon, but this time we have no choice cancel," as continuing the tour could inflict permanent vocal damage to Meine's throat.

Megadeth frontman Dave Mustaine (whose band was on tour with the Scorpions) tweeted how grateful he was to get play some shows with the band: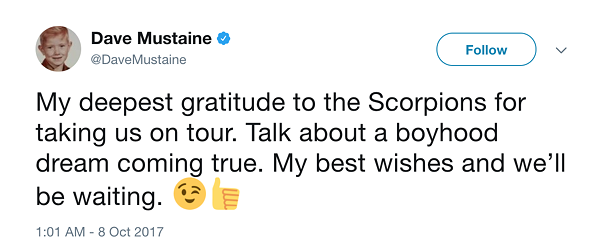 Scorpions and Megadeth launched their North American tour at Santander Arena in Reading, Pennsylvania on Thursday, September 14. The Crazy World Tour was to commemorate the Scorpions 1990 album Crazy World which brought two of the best-known Scorpions songs "Send Me An Angel" and "Winds Of Change."

Ticket's will be refunded at point of purchase. For more information visit attcenter.com.