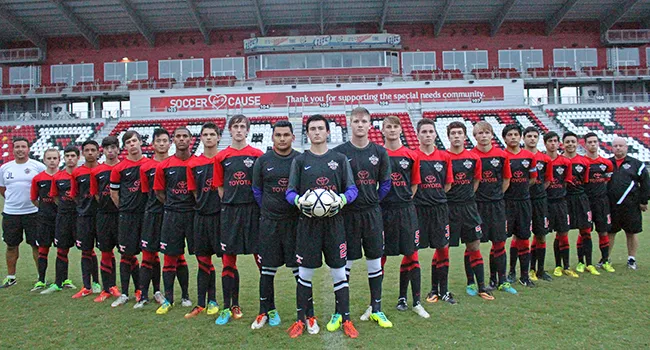 Courtesy
Players and parents are up in arms after SA Scorpions management decided to scrap its youth academy program.
Playing for the San Antonio Scorpions Youth Academy takes an intense commitment.
The teams practice four times per week. They play multiple games on weekends, sometimes traveling to out-of-state tournaments. Soccer leaves little time for other extracurricular activities, much less a social life.
But the effort does come with some perks. The U.S Soccer Development Academy system, in which the Scorpions' three youth teams play, is the highest level of youth soccer in the country. Playing on an academy team is the surest route to a college scholarship or an invite to play at the national level.
That opportunity will soon be unavailable in San Antonio. The Scorpions announced on May 20 that their youth academy clubs would "cease to exist." The U.S. Soccer Federation will revoke the Scorpions' academy status at the end of this season.
The news came as a shock to players and parents alike, said Rene Medellin, who has a son in the program. Medellin described the development as "the energy being sucked out of you, like you've just been hit by a Mack truck."
Every Major League Soccer team has a youth academy program, as do many teams from the country's second-tier professional soccer league, the North American Soccer League, in which the Scorpions play. Once the season ends in June, San Antonio will be the largest city in the country not to have an academy team.
Upset parents said Scorpions' management is to blame.
"How does it make sense that ... we can't have this? That's what's ridiculous, and that's where [the Scorpions] have let us down," Kevin Bryant, who has two sons in the academy team, told the San Antonio Current.
Officials with the Scorpions and U.S. Soccer did not respond to multiple requests for comment.
In a news release, the Scorpions said the organization "studied creating various different partnerships that would have not only kept the academy teams intact, but expanded our involvement with youth player development in San Antonio. Unfortunately, we were unable to come to an agreement with the prospective partners."
In May 2013, the two organizations announced a partnership with local soccer club Classics Elite to form the Scorpions' academy teams. Only clubs invited by U.S. Soccer can participate in the academy program.
The news release for the partnership sounded triumphant and optimistic, offering few clues to its impending disintegration just two years later.
"The U.S. Soccer Development Academy is the most competitive youth soccer level in the country and we want to work together in and with the community to develop the future soccer stars," said Howard Cornfield, Scorpions President and General Manager, according to the release.
An invite to the program means an unmatched level of exposure and competition for young players, but it also comes with strict requirements. Coaches, facilities and financial support must all be of a high caliber and the teams must adhere to specific practice plans and styles of play.
"It's very, very strict," Marco Berros, the president of Classics Elite, told the Current. "The rules and guidelines are very specific."
To help defray the costs of instituting such rules — and to pay for coaches, travel and other team expenses — most academy teams receive financial support from a sponsoring parent club, typically between $150,000 and $450,000 a year.
U.S. Soccer asked the Scorpions to do the same, according to Berros, but the money never materialized.
Without financial support, U.S. Soccer stripped the Scorpions of its academy status. Even though U.S. Soccer made the decision, Berros and parents say that Scorpions management is to blame for not ponying up funds for the program.
Another academy team in San Antonio would seem to require a fresh new cast of characters.
"The only way this could happen is if the Scorpions are sold to a new owner who has a bigger vision," said Berros. "Then U.S. Soccer will probably invite them back to be in the academy program."
The Scorpions said they tried to make it work, but apparently many aren't buying it. Players and parents lamented being left out in the cold on this one, now trying to figure out what to do next.
"Somebody's got to ask the Scorpions, why didn't you follow through on your commitment the way these teenage kids followed through on theirs?" Bryant said. "[The Scorpions] made a very public commitment to support the academy ... and as somebody who's had two children in this program, they have done absolutely nothing to support it."
When the season concludes at the end of June, some players might leave San Antonio to play for another academy team. Such a move would be costly and disruptive. And with fierce competition for academy slots, there's no guarantee that moving to a new city would equate to a spot on a top team.
James Hope, president of the Crocketteers, a San Antonio soccer support group, said that he was "not angry" at the Scorpions, just disappointed that so much young talent could leave the city.
"We'd like to see homegrown talent play for the San Antonio Scorpions in a few years," Hope said. "It may not pay off short-term, but it definitely pays off long-term."
Some Scorpions fans fret that the move could also impact San Antonio's push for an MLS team, which are required to sponsor academy programs.
Fans lashed out against the Scorpions' front office on social media, decrying the move as a short-sighted, penny-pinching maneuver. The academy players' parents, some of whom are Scorpions season ticket holders, felt the same way.
"How can you have a program that doesn't have an academy?" said Mark Bowland, a parent of one of the academy players. "You can't have a legitimate pro club without an academy."