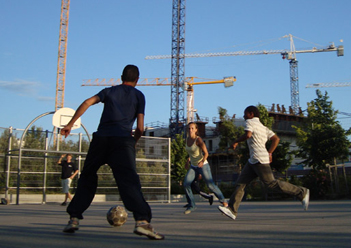 I was given a wonderful opportunity to screen the documentary
Pelada
this week before it hit theaters and wanted to urge San Antonio moviegoers to go to the Santikos Bijou tonight for opening night.
Pelada
will be playing at the Bijou as a limited engagment. You can catch the film on these days: Thursday, Oct. 21 @ 7 p.m. Friday, Oct. 22 @ 12 p.m. Saturday, Oct. 23 @ 12 p.m. Sunday, Oct. 24 @ 12 p.m.
Pelada
is a wonderful independent documentary that follows two former college soccer players as they travel to 25 countries around the world searching for pick-up games ("peladas") to play in. It's a story about the passion of soccer that is shared around the world and how sports and sportsmanship transcend the cultural divide. See the trailer below...