A pre-op transsexual finds a son only a mother could love
Nothing gets an actor the kind of attention that transforming him or herself physically will, especially when that transformation involves uglification to the degree achieved by Charlize Theron in Monster. De Niro's done it. So has Zellweger (twice) and, more recently, George Clooney in Syriana. Now it's time for Felicity Huffman, who is utterly unrecognizable as a pre-op transsexual in Transamerica.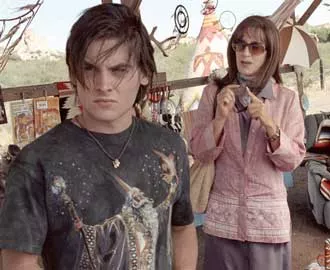 Felicity Huffman, right, plays a pre-operative transsexual who is unexpectedly reunited with a son she didn't know she had—portrayed by Kevin Zegers, left—an angry teenager on a fast track to trouble, in Transamerica.
This isn't to say that Huffman's performance as Bree is good simply because she's transformed herself into an ugly man who is in the process of becoming an ugly woman. That it takes several minutes before you feel certain it's Huffman you're watching doesn't make her an Oscar nominee shoe-in either. What should earn her a nomination is her detailed performance, from the manly voice struggling to tonally adjust into a woman's, to the clumsy walk (Bree's obviously not a lifelong heel-kicker), to the way she makes you want to cry for Bree and cheer her on as she becomes the person she believes she was born to be.
The story begins a week or so before Bree's scheduled sexual-reassignment surgery. The momentous event is quickly derailed by a phone call from a young man who Bree might have fathered in her previous identity. When Bree's therapist catches wind of this, she rescinds legal permission to proceed with the surgery until Bree confronts this unexpected aspect of her male past. A quick plane trip to New York later and Bree discovers her son Toby (Kevin Zeger) is a street hustler with plans to move to Los Angeles, where Bree lives. Of course, this freaks out Bree; she wants no part of the kid and does everything she can to ditch him. Nevertheless, events conspire to land them on the road together, giving the familiar cinematic road trip a fresh coat of paint along the way.
Transamerica

Dir. Duncan Tucker; writ. Tucker; feat. Felicity Huffman, Kevin Zegers (R)
Transamerica is a film about contradictions in many ways. Like Bree, a strictly conservative woman who at one point says a group of other transsexual people are lying about who they are. Or Toby, who aspires to become a gay porn star even though it's likely that he's straight and living his homosexual lifestyle as a direct after-effect of the sexual abuse he suffered as a child. Theirs are identities foisted upon them by outside forces, and all they want is to be recognized for who they are beyond the facades others see.
Unfortunately, screenwriter-director Duncan Tucker's poignant and often laugh-out-loud script fails to fully develop Toby's character—a glitch that torpedoes the entire film. Sure, Toby has been abused. Sure, he's a victim. Sure, he's a lot of things ... like a dick. The audience is never given a reason other than pity to care for him. In the end, the viewer understands that Bree wants Toby in her life because he's her son—but you have to wonder how she'll put up with him. •
By Cole Haddon