A movie about the perfect fit makes its target audience weep
Take a friendship, throw in a few romances, a few hunks, a few untimely deaths, and one pair of oh-my-god flattering jeans, and the end product is a perfectly orchestrated chick flick: The Sisterhood of the Traveling Pants, a movie destined to become a mainstay at 12-year-olds' slumber parties.
Unfortunately, I wasn't lucky enough to enjoy this movie on DVD in the privacy of a friend's living room and next to a box of much-need Kleenex. The theater was the scene for my blubbering outpour, though I was pleased to find at least every third person in the theater tearing up, making my sob-fest a little less obvious.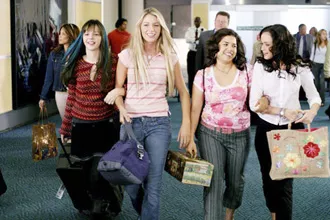 From chic-lit to chic-flick: A bevy of popular TV and screen 'tween stars make the transition to womanhood in The Sisterhood of the Traveling Pants, adapted from the popular novel of the same name.
In Pants, four teenage girls who have been best friends since before birth - their mothers met in an exercise class for pregnant women and they were all born within the same week - are spending the summer apart for the first time. But before the girls depart their Maryland homes, they go to a second-hand store where they find "magic pants" that mysteriously fit each one beautifully despite their different figures.
Deciding these pants will preserve their bond while they are separated, the girls share the pants, each girl having them for a week at a time. As expected, the pants bring "magic" to whichever girl is wearing them: One finds love, one finds courage, one finds hope, one finds herself.
And as chick flicks are designed to do, the film resonated with femme moviegoers, especially those about the same age as the girls' characters.
"I like that they are all apart, but stay together because of their friendship. The jeans are just a symbol of their friendship," said Raven Rodriguez and Taylor Johnson, close friends and fifth graders at Wetmore Elementary School, each anticipating the other's thoughts and completing parts of the sentences.
Viewers were able to establish a connection with characters in the film as each of the girl's stories unfolded throughout the movie.
The Sisterhood of the Traveling Pants
Dir. Ken Kwapis; writ. Delia Ephron, based on the novel by Ann Brashares; feat. Amber Tamblin, America Ferrera, Alexis Bledel, Blake Lively (PG)
"I really identify with Carmen because she missed her dad and I feel that, too," said Sandra Rivera, a sixth grader at San Antonio Preparatory Academy.
The film's themes also sparked a connection with young adult viewers.
"`The movie` is really realistic because divorce happened in my family," Rebecca Tharp, a sophomore at Smithson Valley High School, said. "It told me that it's not just my family."
One of the movie's themes also resonated with Amy Swain, a seventh grader at Wood Middle School, whose friend and classmate, Sarah Walk, is eagerly awaiting the release of the movie on DVD because it is a must-have, she says.
"One of my parents died, and it was good to see a movie that dealt with that," Swain said.
The Sisterhood of the Traveling Pants is a movie for which boyfriends should be afforded the get-out-of-chick-flick-free card, as its no-fail, pack-gal-pals-into-theaters formula only works on the fairer sex. Bring girlfriends. And a box of Kleenex. •