It's out of the frying pan and into the fire for a lonely asylum-keeper's wife
The son of its superintendent, Patrick McGrath grew up on the spacious grounds of Broadmoor, Britain's largest mental institution. Since it was young McGrath's home, asylum must have meant sanctuary. Asylum is what refugees seek, not flee. However, for those who are incarcerated - or fear incarceration - in facilities for the criminally insane, an asylum is a dreadful fate.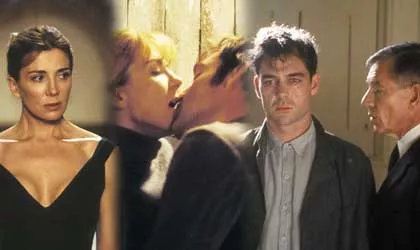 Natasha Richardson, left, begins a dangerous affair with an inmate (Martin Csokas, center) at the asylum where her husband and a colleague, played by Hugh Bonneville and Ian McKellan, far right, hold cold sway over the population.
At the beginning of Asylum, which director David Mackenzie adapted from McGrath's 1996 novel, Stella Raphael (Richardson) moves in to her new home, an insane asylum. Her husband, Max (Bonneville), has been appointed assistant superintendent, and though he seems to fit right in, she is immediately unnerved by the vast, vacant corridors and the odd human beings, staff included. "I spend my life immersed in the passions of others," declares Peter Cleave (McKellen), the asylum's longest-serving psychiatrist and Max's rival to succeed the retiring superintendent. But Stella is a figure out of Flaubert, Tolstoy, and Lawrence, a woman overwhelmed, and undone, by her own insistent passions. Her marriage of 12 years has produced one young son, Charlie, but hardly any ardor with Max, a plodding careerist incapable of coping with the emotions he has been trained to analyze.
Cleave assigns one of his patients, Edgar (Csokas), to work in Stella's garden, and, like Constance Chatterley, she is soon enamored of the raw vigor that this brooding gardener, alone of anyone around, exudes. Stella and Edgar are soon meeting regularly, covertly, in ecstatic embrace. Edgar escapes to London, and Stella abandons husband and son to join him, keeping secret house in a deserted, dilapidated tenement, a sort of asylum for the criminally enamored.
Asylum

Dir. David Mackenzie; writ. Patrick Marber, based on a novel by Patrick McGrath; feat. Natasha Richardson, Ian McKellen, Hugh Bonneville, Martin Csokas (R)

The reason that Edgar was consigned to the state institution was, in his words, "a severe personality disorder with morbid jealousy." In fact, he beat his wife to death with a hammer and then decapitated the corpse. Stella begins to sense that she is in mortal danger with Edgar, even as Cleave determines to retrieve his favorite patient. "He's mine," the stubborn doctor claims, "and he needs my help."
Asylum
is a drama of conflicting powers, a four-way game of wills and wits played out against the ambiguous backdrop of an asylum where it is difficult to distinguish the inmates from their keepers. Stella, Max, Edgar, and Cleave struggle for control, in a world in which victory belongs to the one who best can master passion.
"You're a very dark horse," says Stella to Cleave, late in a race she realizes she is losing. In the world she finds herself trapped in, which seems to be 1950s Britain, women lack authority over their own lives, and a woman who loses hold of her emotions can expect to be restrained. Sanity here - as everywhere - is tenuous, but one need not be demented to be affected by this uncanny film. With exquisite performances from its four lead actors and sets that aptly echo unsettled states of mind, Asylum strikes home. •