Allen's newest film hints at the old genius, but the aging Lothario has yet to find his replacement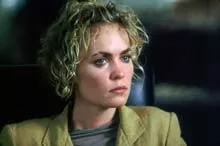 Latest Allen ingenue Radha Mitchell plays emotionally unhinged two ways in Melinda & Melinda, once for laughs and once for tears.


T
he question has become an annual ritual among Woody Allen fans: Is this year's entry his "return to form?" For years it was a silly question (When you can make a
Sweet and Lowdown
or
Bullets Over Broadway
every few years, who needs a stinkin' comeback?) but the concern was justified with the sad string of films Allen made for Dreamworks. Does anyone remember
Curse of the Jade Scorpion
? If so, hope the therapy's helping.
Melinda & Melinda doesn't stand among Allen's best or middle-best, and it disappoints in a number of ways. But the film is a minor letdown, not a cause for desperation. For the first time in a few years, the new Woody movie at least feels like a Woody Allen picture.
The feeling is there in everything from the movie's thematic concerns to the way they're presented: Is life hilarious or heartbreaking? Should we stop worrying and enjoy the ride, since there's probably nothing after this go-round ends? A group of intellectuals sit around a bistro table, retelling the same story as both comedy and tragedy, debating their own artistic abilities and the nature of existence at the same time.
Melinda is played in both stories by Radha Mitchell, but the people surrounding her change. In both versions, she's a bundle of freak nerves, fleeing from something ugly and personal into the comfort of neighbors or estranged friends. Well-meaning people try to get her on her feet and set her up with eligible men, but misfortune and misjudgment pile up, whether we're supposed to be laughing or crying at the results.
It's an interesting idea that doesn't quite work. The main difficulty is that the movie never can give the tragic side much weight; Melinda's troubles feel programmed instead of experienced. Maybe the bifurcated structure doesn't afford enough time to fill in the brushstrokes of woe; maybe the intercutting breaks the mood too often, but this is not a film that can generate sadness.
Melinda & Melinda

Dir. and writ. Woody Allen; feat. Radha Mitchell, Will Ferrell, Chloë Sevigny, Chiwetel Ejiofor (PG-13)

On the comic side, Will Ferrell is quite funny while still providing evidence for an unwelcome theory: It is impossible to be fully successful as the male lead in a Woody Allen comedy without impersonating Allen. Ferrell is too strong a comic personality to mimic his director outright, as Kenneth Branagh did so effectively in
Celebrity
, but the filmmaker gives him lines that simply can't be read without echoing Woody's so-familiar voice. Few of us want to see an increasingly gnome-like Allen playing out romances with 20- or 30-something women, but
Melinda
shows that when he takes his lead roles it is at least partly about a perfect match between performer and material, and not only because the old Lothario wants to kiss Julia Roberts.
Evidence to the contrary is out there. In Bullets Over Broadway, John Cusack was able to get laughs with Woody-isms without aping the author. But this is evidently not a common skill, and while all actors clamor to work in the director's films, Allen might be best off finding one guy who can be effective as his alter ego for a few films in a row. The director wouldn't mind the comparisons to Fellini and Mastroianni, and the rest of us might find ourselves really enjoying a Woody Allen film for the first time in what seems like ages. •
By John DeFore