Forgiveness, the best revenge
Harvest of Redemption
Dir. Javier Chapa (2005)
Based on a true story told by Mercedes, Texas native Eddie Howell in the eponymous book, Harvest of Redemption tells the story of a young man, who as a child growing up in the Rio Grande Valley, witnessed his father's brutal murder. A reception at 6 p.m. will precede the 7 p.m. screening. The writer and lead actor will meet with audience members from 9-9:30 p.m. Admission is free. Thursday, November 10, at the UTSA Downtown Campus, Buena Vista Building Theatre, BV 1.326. For more info, call 458-4120.
---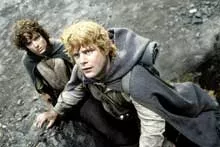 Frodo (Elijah Woods) and Sam (Sean Astin) make their way toward Mount Doom in the Return of the King.
One trilogy to rule them all
Lord of the Rings Trilogy
Dir. Peter Jackson (2001, 2002, 2003)
Hobbit-philes can get their fill of wee folk, trolls, and fairies at the Alamo Drafthouse's LOTR weekend, November 11-13. Friday night's look-a-like contest features a $100 prize, and Lordies who complete the entire trilogy will receive an official LOTR Drafthouse T-shirt. Fellowship of the Ring screens Friday, Two Towers Saturday, and Return of the King Sunday. All showtimes are at 10 p.m. $25 for a three-day pass includes T-shirt. Alamo Drafthouse Westlakes, 1255 S.W. Loop 410. For info, visit alamodrafthouse.com/westlakes.
---
Movies for the Soul
Spiritual Cinema Circle
This month's Unitarian Universalist film screening will focus on short films that explore destiny and control. The screening, featuring four shorts and a 30-minute documentary, begins at 7:45 p.m. Saturday, November 12, at the First Unitarian-Universalist Church, 7150 IH-10 West. Admission is free but donations are appreciated. For more info, call 344-4695 or visit firstuusanantonio.org/filmfest.htm.