Sarah SIlverman's luster wears off (a little)
Sarah Silverman: Jesus Is Magic is full of songs about self-medication and death. There is, for example, the one whose chorus asks, "Do you ever take drugs so you can have sex without crying?" And the cheery ditty Silverman sings at an old folks' home, which explains to the residents, "It's not cold in here—you're just dying!"
The 72-minute film is about an hour's worth of Silverman's stand-up, padded with a weak story line that enables it to pass as a movie: Silverman listens with a combination of annoyance and envy as two friends (Brian Posehn and Laura Silverman, the comedian's sister) talk about their current projects. Dejected and without a real answer when they ask what she's up to, Silverman tells them that she's got a one-woman show: "It's about, um, the Holocaust," she stammers. "And AIDS. But it's funny! It's a real opus." Silverman says that the show- "a musical," she adds—is that night, then scrambles to actually put one on when her friends say they want to come.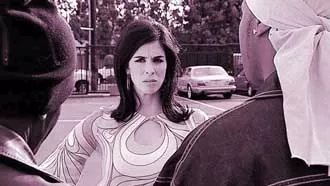 Silverman affronting stereotypes in Jesus is Magic.
And lo and behold, Silverman's show actually is about the Holocaust (or "the alleged Holocaust"). And AIDS ("When God gives you AIDS—and God does give you AIDS, by the way—make lemon-AIDS!"). It's also pretty funny, though not gut-bustingly so. The 34-year-old Silverman's schtick, for those who don't know, is that she's pretty, smiley, and seemingly angelic—at least until the slurs, the sex jokes, and all manner of other objectionable thoughts start coming out of her mouth. Oh, and she pretty much cares only about herself. She was a highlight of Paul Provenza's recent documentary, The Aristocrats, ad-libbing a memory of participating in her family's lewd vaudeville act as an audition for a famous New York City talk-show host, her bright face dropping as she seemed to slowly realize what really happened: "Joe Franklin raped me."
Sarah Silverman: Jesus is Magic
Dir. Liam Lynch; writ. Sarah Silverman; feat. Sarah Silverman, Bob Odenkirk, Laura Silverman (R)
Rape is a subject Silverman brings up again (twice) in Jesus Is Magic, along with strippers, Martin "Loser" King, and the granddaddy of American taboos, 9/11. Most of these jokes hit, and we learn just how much Silverman's delivery matters when an awkward teenage girl tries to tell a few of them at the end of the film. There are, of course, limits to a persona as self-involved as Silverman's—"You're a star," she tells her reflection, "and I'm a starfucker"—and it doesn't take long for Jesus Is Magic to find them. Once Silverman has covered the disparagement of Asians, Jews, and child lesbians, her shock punch lines get progressively less effective. The skits that interrupt Silverman's act, written by the comedian and directed by "United States of Whatever" bard Liam Lynch, further deflate the movie, especially a laughless interlude in which Silverman throws a diva fit backstage and a very weird moment that involves an animated tear flying away from Silverman's eye and then—what else?—acting as lubricant as a stagehand jacks off to her performance.
But then Silverman rhymes "Gary Busey" with "dykes love pussy," and she grabs your attention again. The best of the songs woven throughout Jesus Is Magic is a '60s bubblegum number in which Silverman is heavily made-up and bouffanted, singing with sunshine in her voice about how much she loves her boyfriend—until she comes across two stern-looking African-American men just as she gets to a line about black guys calling each other the N-word. They let Silverman off the hook, and though this trifle ain't perfect, you probably will, too. •