Myla Goldberg's bestselling novel is adapted into a frothy, mystical mess
While Bee Season's title might suggest it's a film about honey-gathering insects, perhaps even a horror flick about Africanized killer bees invading a small town, it's actually about the duller kind of bee: spelling bees — which have been all the fad as of late, what with Spellbound and The 25th Annual Putnam County Spelling Bee. Unfortunately, directors Scott McGehee and David Siegel's adaptation of the Myla Goldberg novel of the same name doesn't have half the heart of either of those films.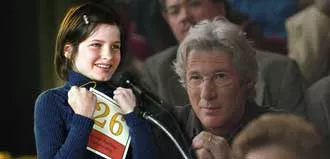 Flora Cross portrays a young girl with a gift for words in the film adaptation of Bee Season. Richard Gere plays her father, a theological scholar who would like to apply his daughter's skill to mystical tasks.
"Letters, when they combine, hold all the secrets of the universe," explains Saul Naumann (Richard Gere), professor of religious studies and father to preteen spelling-bee champ, Eliza (Flora Cross). When Eliza scores her first big win, Saul recognizes in her a natural inclination for Kaballah, the ancient Jewish mysticism he's obsessed with. (Ironically, Gere is an avowed Buddhist, which makes you wonder if he took this role in part to poke fun at Kaballah faddists such as Ashton Kutcher.)
Saul's interest in Eliza's ability to divine spellings out of thin air quickly consumes the family's surface-perfect life, which means he also turns his back on his gifted cellist son Aaron (Max Minghella, Anthony's boy) with whom he used to nightly duet. Meanwhile, his scientist wife, Miriam (Juliette Binoche), who had previously tended to Eliza's needs, occupies her new free time by sneaking out late at night to steal insignificant trinkets from ritzy houses. This subplot is so confounding it's almost pointless to try to glean what's transpiring during the bizarre sequences that punctuate the rest of the film's narrative.
While at first Saul seems the ideal family man, cooking regularly, supporting Miriam, and sharing in his children's interests, his professorial proclivities lead him to play the role of teacher and mind-reshaping guide at home. The God of his own house, Saul is incapable of allowing his family to evolve independently of his single-minded will. As a consequence, Miriam's mind begins to shatter under the strain of living up to his expectations and Aaron, once his most devout follower, turns to Hinduism and the company of Chali (Kate Bosworth), his Hare Krishna guide.
Bee Season
Dir. Scott McGehee, David Siegel; writ. Naomi Foner Gyllenhaal, based on the novel by Myla Goldberg; feat. Richard Gere, Juliette Binoche, Flora Cross, Max Minghella, Kate Bosworth (PG-13)
Gere's is a busy performance, full of details that are supposed to create depth of character rather than superficial suggestions of one. But that's about all Naomi Foner Gyllenhaal's screenplay can manage, instead populating scenes with metaphors charged with more meaning than a Camus novel. Mostly, blame can be laid at the feet of McGehee and Siegel whose detached, freezer-cold directorial style stymies true emotional engagement from an audience. Their methods have worked well in the past, especially with The Deep End, in which the screenplay and performances buoyed the family-centric noir thriller, but here all we get are characters we know we should like. We're just not given reasons to.
Instead, we're provided plenty of deeply philosophical and, yes, engaging material that promises God can be found in words. While that's a great message for the local library to convey, it is doubtful Bee Season was produced with the intention of packing libraries. Most ironically, it's a film about spirituality that was made without soul. Even its supernaturally charged climax leaves the reader disconnected, unable to find epiphany in pithy scenes that are supposed to be nothing but epiphanic.
In the end, it's young Cross who redeems the price of admission with her wonderful performance. She acts in, rather than out — a trick she does just as well as Dakota Fanning, but without that damnable effervescence. If there's any grace to be found here, it's with her. •
By Cole Haddon