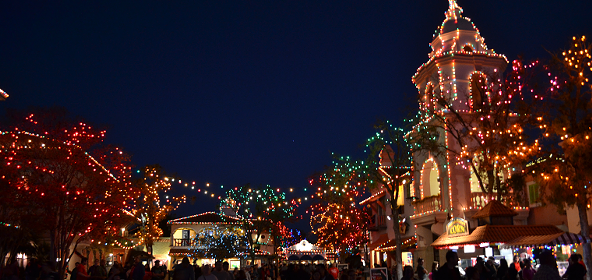 Courtesy of coasteraddict.com
There's no shortage of fun events to attend this holiday season in San Antonio, so why waste your break sitting around at home? There's so many places to go, sights to see, it'd be a shame to pass the time just lounging around, wouldn't you say?
Here are just a few examples of locales where you could have yourself a jolly good time this season:
Six Flags Fiesta Texas Holiday in the Park // From November 17 to January 6, you and your family can experience magical and enchanting moments. This breathtaking winter wonderland features a variety of delightful activities, such as Santa's Cottage, musical performances, and of course, roller coasters and rides.

SeaWorld Christmas Celebration // Enjoy dinner with Santa Claus and Rudolph, the most famous reindeer of all. A visit to SeaWorld wouldn't be complete without seeing one of their many fabulous, family-friendly animal shows. There are plenty of thrilling rides to enjoy as well, so be sure to visit before January 6.

There are several upcoming parades that will be sure to fill your hearts with joy. Both taking place on Friday, November 23, the North Star Mall Annual Holiday Parade and the Ford Holiday River Parade will feature large floats with memorable characters. The North Star Mall parade takes place from 10 a.m. to 12 p.m. and the Ford Parade will take place from 6 p.m. to 9 p.m.
Get our top picks for the best events in San Antonio every Thursday morning. Sign up for our Events Newsletter.