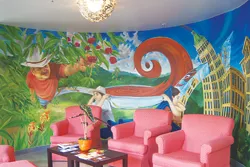 Step down into the artsy, Fair Trade vibe at Blue Star's Lazarus Coffee House.
Release Date:
2008-02-06
I've been scouring the city for the perfect dulce-de-leche latté — sadly, the cup I ordered at Lazarus Coffee didn't fit the bill. Yes, for die-hard latté fans a dulce de leche may be a cop-out coffee selection but the sugary cup is one of my faves. The latté I ordered was easy on the sweetness — which in my book defeats the whole basis of this speciality drink. However, I wasn't too discouraged with the entire morning cup and cookie duo — the house-made snickerdoodle pleased my belly.
Lazarus labels itself a Fair-Trade coffee establishment — with a menu consisting of organic teas and coffee choices one would assume the coffee haven falls into the same mold as Ruta Maya or even Olmos Perk. Although all three coffee shops boast the same mission, Lazarus sets itself apart with its underground artsy appeal. The shop is located in the lower level of the Blue Star Arts Complex, where residents and gallery owners trail in to grab that morning cup of joe before opening up shop.
The coffee shop's locale has a certain ambience that makes it appealing — the hanging art balances Lazarus's industrial feel. The beautiful mural adorning the wall — which pays homage to migrant workers over a San Antonio backdrop on which the Tower Life building is gorgeously depicted — is also a nice touch.
Back to the food: The lunchtime offerings provided a better eating experience. I chose the King William panini, a hearty peppercorn-smoked bacon sandwich with brie, grilled apples (surprisingly delicious), and mixed greens with their own special San Antonio aioli sauce. All you Sopranos fans will definitely not be disappointed with the Tony Soprano, a meaty panini with a tangy pesto mayo. I opted for hot tea during this visit, and I was served a scalding hot Jazz Tea — green tea infused with jasmine. Although it was a bit too hot it complemented the panini and potato-salad combo. It's also worth noting that the mug size for my tea was enough to fill a cup and a half — I'll try fire tea (an organic tea with rooibos and tangy ginger pieces) during my next visit.
My lunchtime companion ordered the coffee of the day — Brazil — which was nicely brewed and "a bit chicory." Lazarus's coffee selection is broad and populated with an interesting assortment of speciality lattés, such as strawberry and cream, peanut butter, and Caribbean rum.
Lazarus offers a healthy assortment of coffee, tea, and lunchtime goodies that's encouraged me to give the place another try, quite possibly for a coffee fix. Plus, Lazarus offers resident specials — a major incentive for Blue Star tenants; not so much for the rest of us. Oh, well.
"The mural is a story of the coffee grower and his family and a representation of the burden that they carry to produce a tradable commodity to the big cities and international market."
________________________________________________
ORDER UP
Lazarus Coffee House
1420 S. Alamo
(210) 595-1537
lazaruscoffee.org
THE SKINNY
Coffee is a bit hit-and-miss; try a few before you make a final decision
DON'T MISS
Lunchtime panini — the Tony Soprano is a meaty selection that will keep you full for hours
HOURS
7am-5pm Mon
7am-8pm Tue-Fri
9am-5pm Sat-Sun
PRICES
12-oz. latté: $2.99
The Soprano: $6.99
________________________________________________
TASTING
First Public
Cupping
7pm Thu, Feb 7
Free
Lazarus Coffee House