"Go, go go!" A gray-haired man, dressed in an red polo and cargo shorts, yells at a younger man in a black T-shirt that reads "CPB Border Patrol Federal Agent" in yellow block letters. He's wearing industrial ear muffs and tan army boots. Following orders, he fires his pistol into a maze of camo-print blockades, oil barrels, and cardboard cutouts. Some of the cardboard figures have two hands painted on them to indicate "don't shoot!" The plain figures are riddled with bullet holes.
According to a pamphlet the men were given, this kind of shooting scenario is one border patrol agents could easily run into in the field.
"You spot a known leader of the Los Zetas Cartel enter a house, you know that he has an outstanding warrant, so you go in after him," the pamphlet reads. "To your horror, you stumble on a meeting of the Cartel and all hell breaks loose."
This is just one of six practice scenarios set up at the Bandera Gun Club Thursday — a reward for the attendees of San Antonio's 2017 Border Security Expo. For the past two days, drone technicians, security camera experts, gun companies, body armor manufactures, and other security- and surveillance-equipment peddlers have presented their wares to a unusual blend of law enforcement and tech nerds at the Henry B. Gonzales Convention Center downtown.
In the wake of President Donald Trump's election, won after campaigning to boot "bad hombres" back to Mexico (a country he said is filled with "criminals and rapists"), the event couldn't feel less timely. And with news of Trump hiring of thousands of more border patrol agents at rapid speed, the scene at Bandera Gun Club may become increasingly commonplace.
Trump has already promised to expand the current border patrol force by 5,000, and a recent memo from the Department of Homeland Security has outlined the
shortcuts the agency is apparently willing to take
to expedite the hiring process. This means
skipping polygraph tests
on new hires, a move
former border patrol officers
say may make it easier for drug cartel members and other criminals to join the force.
As armed law enforcement and various other gun enthusiasts shot at cardboard drug lords and
coyotes
Thursday afternoon, those waiting in line for their turn hollered and cheered.
"Aren't you glad I sent you that damn email to come to this thing?" Monico Meneses, a San Antonio Police Officer, said to his coworker shortly after firing a round of machine gun bullets into a target. For Meneses and his fellow SAPD officers, the day's event was worth using up a vacation day. One officer said he was just getting "warmed up" before clocking in later Thursday evening.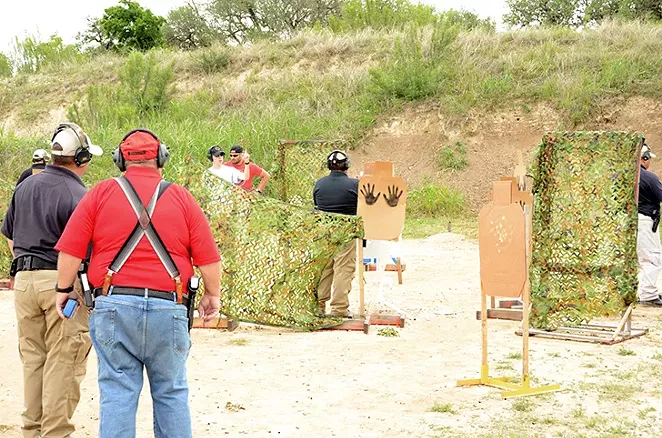 Alex Zielinski
One of six border patrol-themed shooting courses. This one was called "Looking for Well-Armed Coyotes Along the Trail."
Border Patrol agents saw the experience a little differently.
"These events can be fun, but I'm also here to get ideas for new scenarios and techniques I can integrate into training," said Kevin Worrell, a U.S. Customs and Border Protection supervisor who designs firearm training courses for new agents. He drove up from Laredo with five other agents to participate — but skipped the expo downtown. Worrell's fellow CBP agents joked that if they attended the expo, they'd probably just disappoint the salesmen by telling them they already have all the gadgets they need. "We have the weapons, we just need to practice," one agent said, who had never been to a range with moving targets, like Bandera's, before.
Most of the Thursday's shooting courses came with starkly unambiguous scenarios. Shooters were taking down "bad guys," tracking "multiple well-armed coyotes who will not surrender," or aiming at "drug cartel mules."
Border crossings from Mexico into the United States are
at a five-year low
— and many who make the trek are often women and children
seeking asylum from gang and military violence
in Central America.
But Worrell said this kind of training isn't just about hurting bad guys. "Our job isn't about harming people, it's making sure everyone is safe," he said. "Whether that means responding to a car crash, helping an injured agent, or even bringing water to a dehydrated alien."
To Worrell, the looming spike in border patrol hires means his job is about to get a whole lot busier. "But it's not really in our control," he said. "My priority is to create the most realistic scenarios to prepare new agents."
Worrell said he based a lot of his trainings off real-life incidents — like shootings from law enforcement that make national headlines, or bungled interactions with immigrants on the border.
With thousands of new border agents fast-tracked to the Southwest border, these interactions may be hard to avoid. There's already a uncomfortably long list of cases alleging abuses from bolder patrol agents and customs officials along the border — and a
history of the feds turning a blind eye
.
According to a man named Dwanye who's been setting up these kind of shooting courses at Bandera for two decades, border patrol agents are a relatively new sight at the gun club. This is only the club's second year hosting a border patrol-themed shooting even — usually it's filled with skilled hunters and local law enforcement.
"We got more than double this year, and I'm sure there will be more than double the next. I've noticed [CBP] have some new guys out here, too," he said, and chuckled. "You can sure tell the difference."