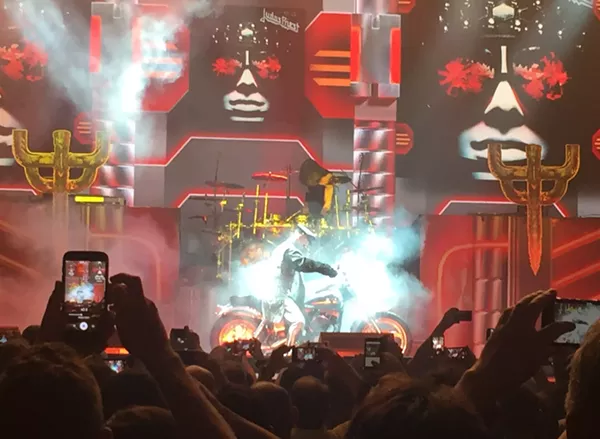 Photo by Sanford Nowlin
Rob Halford rides his Harley onto the stage Tuesday night in San Antonio... because fucking metal, that's why.
Judas Priest
ended its "Firepower" tour in San Antonio
Tuesday, and as a treat to a city that's long been a band favorite, Rob and the boys blasted through "Tyrant," a tune they've not played live since 1983.
No other tour stop got to hear that neckbreaker from its groundbreaking 1976 album
Sad Wings of Destiny
.
If you weren't lucky enough to be in the crowd, weep not, fellow headbanger. The folks at
Loudwire
recognized the performance for the historic moment of kick-assery it was — and they
shared fan-shot video of the whole fricking tune
.
For the tour, JP's set also included rarities like "Running Wild" and "Bloodstone," plus "Saints in Hell," which had never been performed live before. But "Tyrant" was a treat specific to our fair city.
Consider yourself lucky to live in the "Heavy Metal Capital of the World," fam.
Get our top picks for the best events in San Antonio every Thursday morning. Sign up for our Events Newsletter.