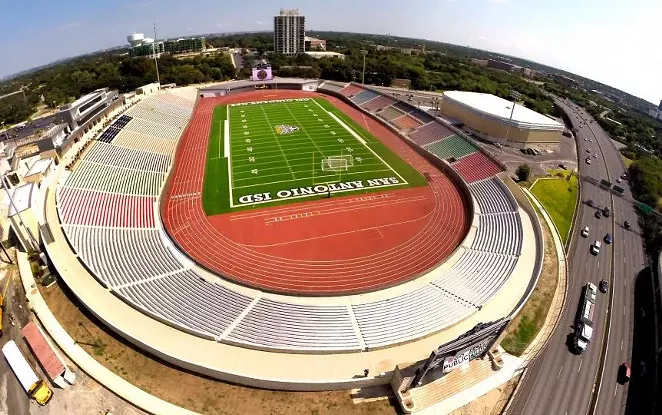 Corinthians FC of San Antonio
The Corinthians FC of San Antonio, a semi-professional soccer team, has a new home.
A faith-based semi-professional soccer team in San Antonio has a new home.
The Corinthians FC of SA will play its next season at the San Antonio Independent School District's Alamo Stadium.
"We are honored to get to play in such an important stadium," the team's owner and president Pete Veras said in a press release. "The renovations done to Alamo Stadium have made it one of the best soccer facilities in Texas, add to that the beautiful historic nature of the stadium and we think fans will have the best experience in NPSL (National Premier Soccer League) thanks to SAISD and Alamo Stadium."
The stadium, which seats 23,000, underwent a $35 million renovation in 2011 that included a Fédération Internationale de Football Association regulation field with quality turf.
According to Veras, Corinthians FC SA will have the largest capacity venue in the league.
That's good news for Alamo City soccer fans basking in the United States' 2-0 win against Mexico in front of a sold-out crowd at the Alamodome Wednesday.
Because, now, in addition
to plans to expand Toyota Field
— where the San Antonio Scorpions play — into a field that meets Major League Soccer requirements, San Antonio soccer fanatics have yet another quality field to celebrate the game at.
"The escalating interest in the Scorpions and professional soccer over the past two years has been mind-boggling," SA Scorpions owner Gordon Hartman said last year. "We are blessed to be a franchise playing in the North American Soccer League. However, we must be prepared to expand once support and investment are secured to allow for additional opportunities."
Namely, one of the 24 expansion teams that MLS wants to add in the next five years.
Corinthians FC of San Antonio