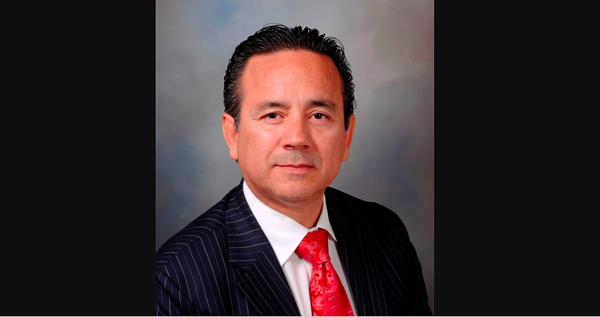 State Senator Carlos Uresti, whose district encompasses part of San Antonio, has been accused of sexually harassing multiple reporters and a political consultant over the course of his 20-year-career at the Texas Capitol.
In
interviews published by the Daily Beast
, the Democrat Senator is said to have dished out "constant harassment" to women in the Capitol with allegations of asking women about their underwear, forcibly kissing a reporter, giving inappropriate hugs, and being inappropriately flirtatious.
Houston-area Senator Borris Miles was also accused of aggressive sexual harassment in the Daily Beast's investigation published Wednesday
A political consultant told the Daily Beast that in 2003, when she worked at the Texas Capitol, she was walking up a set of stairs when Uresti allegedly stopped her and asked, "I can tell you're wearing a thong, is it polka-dots to match your dress?"
The same consultant referred to Uresti as "one of the worst" legislators at the Capitol, alleging "He would check me out all the time… He gave me inappropriate hugs. He put his hands on me, he ogled me."
"I would not get in an elevator with him. If members were having dinner and he was going to be there, I stopped going," she said.
A different woman, who was a recent graduate working as a Capitol reporter in the mid-2000s, alleged that Uresti was "very flirtatious" with her from the beginning. She said she went out to drinks with Uresti one night to get the details on a last-minute deal lawmakers were working on — something that she regularly saw male journalists do with legislators.
"He put his hands on my thigh, and I kept trying to bring the conversation back to work stuff," she told the Daily Beast. When she told him she was heading home, Uresti allegedly kissed her before she could get into her car.




"He put his tongue down my throat. I don't remember how long it was or even if I said anything. I think I pushed him off and got in my car," she said.


In a statement to the Daily Beast, Uresti denied all allegations against him, calling them "unfounded " and "erroneous."

Uresti elaborated in an email statement to the Current.

"First and foremost, the experiences of women who come forward should always be valued, and I do not take these accusations lightly. I whole-heartedly apologize if I have inadvertently made anyone, male or female, feel uncomfortable or demeaned, as that would never be my intention," he wrote.

"The specific instances described in yesterday's Daily Beast article are at best unfounded and, in at least one case, completely erroneous. The other instances would have happened over a decade ago and are simply too old for me to provide specific evidence to the contrary. Moving forward, I pledge to be more cautious in my interactions with men and women, staff, reporters, and lobbyists alike," Uresti wrote. "Sexual harassment has no place in the Capitol or any workplace, and I will be joining my colleagues to implement a comprehensive sexual harassment policy and trainings in the Texas Senate as soon as possible."

Uresti, who heads a personal injury law firm in San Antonio, is
currently facing multiple felony charges
in federal court — unrelated to these allegations. The two separate cases, involving alleged bribery and large-scale wire fraud, are going to trial in January.
Miles, a Democratic senator is also facing harassment allegations stemming from the Daily Beast's interviews.
A legislative intern told the Daily Beast that in May 2013, she and several staffers were at an Austin bar celebrating the end of the legislative session, when Miles, a representative at the time, pulled up.
After she said "Hi Representative, how are you?" Miles allegedly looked her up and down, counted money from a large roll of cash he had pulled out, and asked her, "Bitch you want to fuck with me tonight?" An unnamed Democratic state representative confirmed the intern's story to the Daily Beast.
Another former staffer told the Daily Beast he had witnessed Miles forcibly kissing one woman at the W Hotel in Austin, and repeatedly hitting on interns, lobbyists, and his own staffers.
A spokesman for Miles told the
Current
"We don't have a statement at this time, and we're not taking any interviews."
Though Uresti and Miles are the first Texas lawmakers to be publicly accused of sexual harassment, a prior investigation by the
Texas Tribune
described how men at the Capitol, including lawmakers, participated in a "wide range of harassment, including degrading comments and gestures, groping and unwanted sexual advances."
Following the Tribune article, which highlighted decades-old policies in both chambers for reporting sexual harassment, House lawmakers
approved a new sexual harassment policy
to protect people who come forward from retaliation.
The Senate has yet to hold public hearings to update their policy after Lieutenant Governor Dan Patrick asked Senator Lois Kolkhorst to lead the review of the Senate's sexual harassment reporting policy, according to the Tribune.