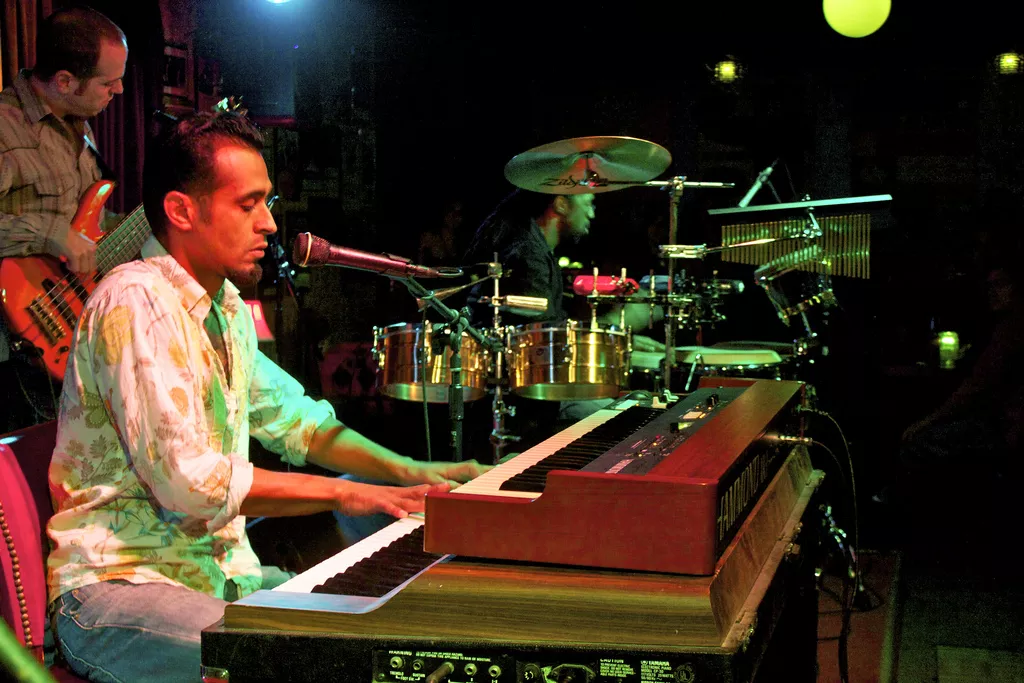 From left: Greg Goodman, Sam Villela, and James Moody, 3/5 of Sexto Sol. (photo by Veronica Luna)
According to Azeneth Domínguez, owner of Saluté International Bar, the Sexto Sol show on July 21 will be the last show ever at the venue. Asked about a press release sent to the
Current
on July 17 informing us of a Limes/Hickoids show at Saluté on July 25, Domínguez was clear: "It's not going to happen," she told the
Current
by phone. "I never confirmed that show." Hickoids' singer Jeff Smith claims she had given the verbal go ahead, but told of what Domínguez told us, added: "I'll figure something out," meaning he'll try to book the show elsewhere. My take: a simple misunderstanding between two people who love and respect each other. So the latest from Domínguez is that Saluté will close its doors after the Sexto Sol show, and will re-open on July 26-28
only
to sell the last of her beverage inventory; there will be no live music. In any case, the July 21 show will definitely be the last show Sexto Sol will play at Saluté. Four of the five members of the band shared with us their last thoughts on the venue and the person that first gave them the chance to become one of San Antonio's strongest bands.
— Enrique Lopetegui
Eddie Hernández (guitar)
My earliest memory of Saluté is playing Wacky's (now Limelight, and ironically whose owner is [the reason] why Saluté is closing) back in the early '90s with my band at the time, called Sun*Day. I stepped out to the bar's patio before and heard some great blues music coming from across the street. I was intrigued so I walked across the street to check it out. The bar was called Saluté. I walked in and ordered a beer and thought, 'Wow, what great sounds!' I'm pretty sure it was the late great Randy Garibay playing. I was blown away by the cool vibe there, the colorful little room, the nice lady at the bar and, of course, the music. I became a regular and absorbed. I took it all in. All the sounds I heard there over the years ended up inspiring me and my good friend Juan Ramos to begin a new music project called Sexto Sol. We owe a lot to Azeneth for this inspiration and for sharing such great music and a great room to experience it in. We became the best of friends and she gave us our first gig there. I can say she gave us our start! I've seen so many great local acts that define what the San Antonio sound is. From the late-great Steve Jordan, known to the world as the Jimi Hendrix of the accordion, to Joe Jama & 100 Proof to The West Side Horns to Flaco Jiménez, and the list goes on and on. To this day I still play there as much as I can and deejay there as DJ Plata every Thursday night. Many years! Please come out and enjoy Saluté while you can. Sexto Sol will be the last live music act set for July 21, but the bar will be open until the end of the month. I just want to say 'Thank You, Azeneth, for the music, the love, the friendship, and the guidance over the years!'"
Sam Villela (vocals, keyboards)
"A real San Antonio experience, authentic. The place resonates with memory and sound. Steve Jordan, Joe Jama, West Side Horns, Sexto Sol (before I played with them) ... It's really an initiation if you make that West Side sound in any way. If you claim to be from San Anto [but] never went to Saluté, I question your upbringing... especially if you are a
músico
. You really missed it all. When those doors close, forget about it..."
Juan Ramos (drums)
"My parents used to take me with them to Saluté back in the '80s, when I was a teenager. My parents have always supported live music and so I got to experience a lot of great live music growing up. As an adult, I started going there in the early '90s with [the late] Manny Castillo to see Steve Jordan and Joe Jama. In the late '90s my roommate, George Lara (original bass player for Sexto Sol) and I lived down the street and we would be there almost every Thursday and Sunday to see Steve. Around that time, an early version of Sexto Sol played there for [Girl in a Coma's manager] Faith Radle's birthday party. Saluté will always be one of the main places where Sexto Sol got its start. I believe we were one of the first of the younger rock bands to play there. After that it became more common for the younger generation to see the
veteranos
play and for the younger 'alternative' bands to play there. The other significant birthplace of Sexto Sol was Taco Land. With Saluté you had the reverence for the traditions of the San Anto scene with plenty of local heroes to draw inspiration from, and with Taco Land you had the iconoclastic raw energy of the young guys trying out new original music. I consider myself very lucky to have had such a well balanced education as a musician in San Antonio."
Greg Goodman (bass)
"Salute was the place where I cut my musical teeth. I had the opportunity to witness performances of legends like Randy Garibay and Sauce González, as well as Esteban Jordan, who I was lucky enough to jam with. It was veteran musicians like Pete Garza who would offer me their bass in an effort to bring me into a learning experience like no other. It was all made possible by Azeneth Domínguez, who gave young musicians an opportunity to learn from the greats. She has a wonderful soul and the San Antonio music scene is going to miss her dearly."