Fabian Villa
Ariel Pink after wardrobe change number one
Halfway into his Sunday night set at Paper Tiger, Ariel Pink busted into
"Black Ballerina,"
one of the less politically correct tunes in his Library of Congress-sized collection of politically incorrect tunes. The
pom pom
cut follows a boy named Shotgun Billy as he and his creepy uncle (or genital metaphor) One-Eyed Willie hit up "the number one strip club in LA."
For the tantalizing performance, Pink stripped down to a thigh-length bikini tee, while his frighteningly pale drummer rocked the real, teal thing for one of the greatest in-song skits I've ever seen. Pink is a master of the skit, throwing voicemails and cell phone conversations into his Jeff Koons pop. For "Black Ballerina's strip club scene, Pink, the bikini-drummer and keyboard player Jorge Elbrecht traded off on lines, dropping gems like "Hi Billy, how do you like the number one strip club in L.A?" and "Uhh... I like your areolas baby" before returning to the body of the song.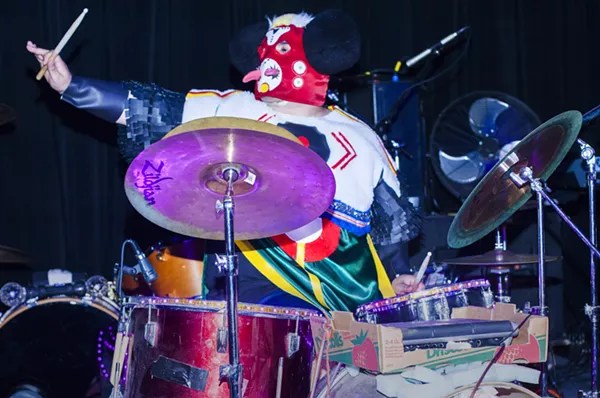 Fabian Villa
SA sound artist Computer Jesus Refrigerator
Earlier in the evening, Computer Jesus Refrigerator proved his (its?) worth as an underutilized San Antonio resource. In addition to his glitch and noise performances, CJR moonlights as
KOKOFREAKBEAN
, producing some alarming work for
Funny Or Die
. Last night, the masked artist dropped a set of overwhelming noise samples, mimed cell phone convos and Hella drumming from hell. The only way it matched the shade of headlining Pink was in the absurdity of the rhythmic debacle. And the ridiculous costume.
Fabian Villa
Ariel Pink wearing a t-shirt of Ariel Pink
Speaking of which, Ariel Pink wore a t-shirt of himself lounging in all-white linen. And chain-smoked through the performance. And dedicated a song called
"Sexual Athletics"
to Mother's Day.
At 36, Pink is a subverted pop wizard, able to pen
flawless
singles, but choosing to goof off instead. Like Serge Gainsbourg before him, the genius lies somewhere between his poles of perfection and absurdity.