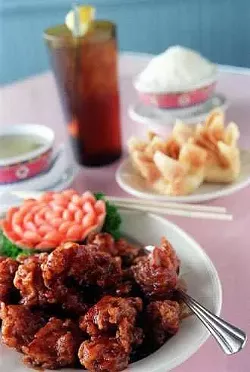 From front, General Chicken, rangoon, wonton soup, ice tea, and white rice.
Release Date:
2002-06-13
To my daughter Zoe, the most down-home, delicious dinner is a brimming bowl of egg drop soup with extra mushrooms — stirred lukewarm, served with a side of semi-sweet crabmeat Rangoon and steamed rice. She's three years old, and her concept of home cooking is a little more sophisticated than something that is simply cooked at, well ... home. (She may be young, but she knows her mommy better than that.) For those inexpensive epicurean needs, we have extended our dining room from downtown San Antonio to Shang-Hai Chinese Restaurant in Universal City, where our dinner is cooked with care and seconds are never necessary.
We began our most recent binge with an order of rangoon ($1.80 for four) — delicate wonton skins stuffed with cream cheese, imitation crab meat, and chopped green onions; deep-fried to a golden crunch, they offer a mouthwatering melt inside. (Surely these are an American concoction. Do they really have cream cheese in Rangoon?) While we sipped on steaming soups and ceremoniously snickered at item 10 on the menu — the "Flaming Pu-Pu Tray" — we perused the rest of the entrees. Despite the restaurant's respectable repertoire of well over 100 different dishes, we tend to stick with our family favorites: lomein, fried rice, or any of the individual dinners; although the Shang-Hai house specialties — especially the savory sweet sesame chicken — are an occasional treat. But our tastes are typically simple: Daniel ordered the lemon chicken while I requested moo goo gai pan. Dinner is a deal at $6.95 per meal, served with soup, fried or steamed rice, and either an egg roll or two Rangoon. A good meal is well-rounded with a cup of strong, hot tea, or a cool glass of plum wine or Tsing Tao.
The plates arrived within minutes, heaped with tender chunks of chicken, a mound of rice, and crisp sides. Thickly breaded lemon chicken was juicy without being greasy, sweetly suffused with a syrupy drizzle of sauce. The moo goo gai pan, a medley of lightly steamed vegetables and delicious bits of chicken, was piled high next to sticky, fresh-steamed rice. At Shang-Hai, the fried rice is a veritable meal in itself — fat grains of rice that resist an oily coating and instead absorb the flavor of the diced veggies and egg. The service was — as always — effortless and efficient, with frequent drink refills and stacks of napkins for Zoe's growing puddle of spilled soup.
Shang-Hai is American-Chinese comfort food in a comfortable setting, be it there — in deep, cushioned chairs surrounded by quiet conversation and the lull of Delilah on KQ 102 — or at home with steaming Styrofoam containers chock full of fresh food. There may be an ongoing onslaught of to-go orders, but the customers are here to stay. Between grandparents, an aunt, an uncle, and her parents, I know Zoe gets her home cooking there at least once a week.