The tragic story of Jazmine Barnes, a 7-year-old girl who was shot and killed in a drive-by shooting early Sunday morning while riding in a car with her mother and sisters, has received attention not only from the entire state of Texas, but the nation as a whole.
In the days following the shooting, activists, first responders and celebrities are
calling for justice for Jazmine
. Helping the police in their investigation is activist Shaun King. He's made many tweets about the
incident
, and is even offering a reward of $100,000 to whoever turns in the shooter. The reward was originally $25,000 but thanks to donations from private parties, it has increased exponentially.
URGENT. ALL HANDS ON DECK.

A 40 y/o white man w/ a beard in a red pickup truck pulled up on 7 y/o Jazmine Barnes and her family near a Houston @Walmart and shot and killed her and injured others.

I am joining the search for her killer and have a $25,000 reward.

Need him NOW. pic.twitter.com/ugfA2nJ1k8

— Shaun King (@shaunking) January 1, 2019
NFL star DeAndre Hopkins tweeted about the incident as well.
When I see Jazmine Barnes' face, I see my own daughter. I'm pledging my playoff check this week to help her family with funeral costs and to support @shaunking @SherriffED_HCSO @SylvesterTurner in bringing this man to justice. On Saturday, I will be playing in your honor, Jazmine pic.twitter.com/oCRYSgfGO9

— Deandre Hopkins (@DeAndreHopkins) January 3, 2019
DeAndre isn't the only professional sports player getting involved. NBA icon and San Antonio high school basketball star Shaquille O' Neal, as well as Houston senior police officer Kenneth Miles,
delivered a cashier's check
to pay for Jazmine's funeral.
Jazmine was the only person killed in the shooting. Her mother, LaPorsha Washington, was shot in the arm, but fortunately her siblings were unharmed. Police released
this sketch
of the suspect based on eyewitness reports. According to the Harris County Sheriff's Office, the man is believed to be white with blue eyes and a thin build. He is also believed to be around his 30s or 40s, and was wearing a black hoodie at the time of the shooting. He didn't have a full beard but did have a bit of stubble on his face.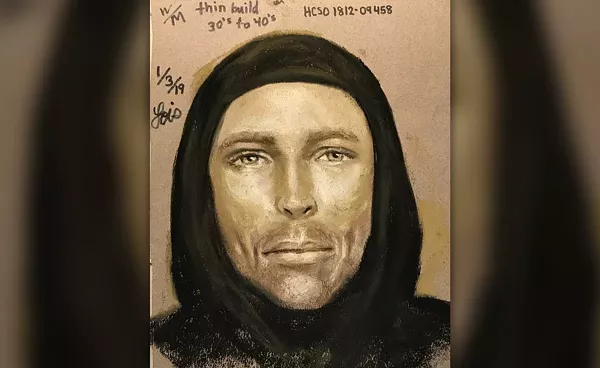 Harris County Sheriff's Office
Stay on top of San Antonio news and views. Sign up for our Weekly Headlines Newsletter.