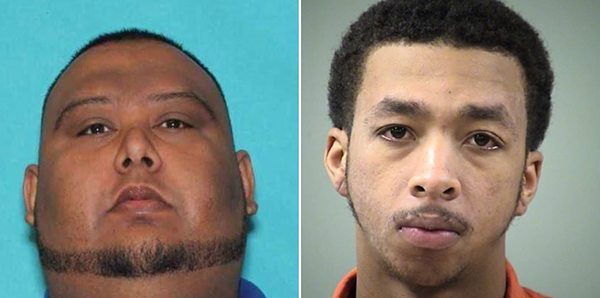 BCSO
Sheriff's officials say jail employee Luis Saldivar (left) tipped off capital murder suspect Kenton Haynes, told him to run.
The Bexar County Sheriff's Office says a jail worker tipped off a capital murder suspect who came to the lockup to retrieve his belongings after he'd been released the day before.
Officials say that after Luis Manuel Saldivar Jr., a clothing room tech at the jail and near five-year veteran of the sheriff's office, told the suspect about the warrant, he followed it up with "you should leave the building."
So the guy, 22-year-old Kenton Maurice Haynes, did just that. What's even weirder is that, according to the sheriff's office, Saldivar then told authorities about Haynes' warrant. When deputies tried to catch him outside the jail, Haynes ran,
according to a sheriff's office statement
. They caught him and took him into custody a couple blocks from the jail.
Haynes' first trip to lockup happened Tuesday, when he was booked on an evading arrest charge and then released later that day after posting bond. The San Antonio Police Department, which filed the capital murder warrant that landed Haynes back in jail, hasn't provided any details on the charge against him.
On Thursday, officials filed charges against Saldivar for hindering the apprehension of a felon, a third-degree felony. If convicted, he could face up to 10 years in prison.
At a press conference Thursday
, Bexar County Sheriff Javier Salazar said the whole situation "boggles the mind." He said Saldivar and Haynes don't appear to know each other, and that Haynes only reached him by "luck of the draw." He added, "This employee endangered the lives of not only our deputies but the public at large, and that's something we don't tolerate."
Naturally, the sheriff's office is now seeking to fire Saldivar, too.