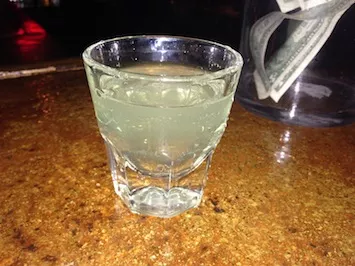 Trust your bartenders. (Dusting Dooling)
Let's be honest—more often than not, you stroll up to the bar with absolutely no shot in mind. Hell, that's the main reason for this blog. The truth is, even yours truly, the shot maestro is at a loss sometimes, so I trust my bartenders and every once in a while, I just "go with what's on special."
So, tonight as I was pre-gaming for another Spurs romp, I found myself at Stone Street Pub on Huebner glancing at the neon glow of the "drink specials" board. I'm not sure if it was the cleverly vague description by the bartender or the lost spelling, but the Apple Kazt Shot was screaming "do me" and I am never one to disappoint.
Here she is in all her glory
1 ounce vodka
1 ounce Apple Pucker
¼ ounce sour
¼ ounce lemon lime soda
Add vodka, pucker and sour to a shaker tin. Shake vigorously. Serve with a splash of lemon lime soda.