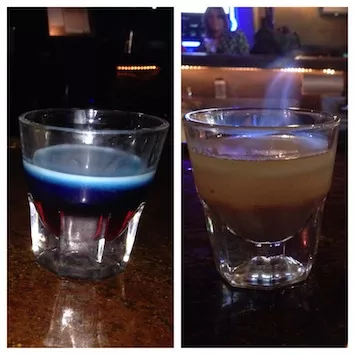 (Via Dustin Dooling)
This week we celebrate The Fourth of July. In order to truly honor this holiday I decided to throw as much of America into a shot glass as possible, unfortunately (or fortunately depending on your plans) one glass wasn't enough. Then again, what better way to celebrate the true spirit of the holiday than with a little American excess?
The first shot pays homage to our flag, a shot to make Betsy Ross proud. This red white and blue blast of flavor won't overwhelm the non-drinkers, but is sure to get you drunk on American pride.
Secondly, what is more American than hot apple pie? This shot packs significantly more punch and an element of danger. You may want to put the sparkler down before attempting this flaming libation.
Cheers, to a great holiday weekend!
American Flag Shot
½ ounce grenadine
½ ounce peach schnapps
½ ounce blue curacao
¼ ounce cream
Add ingredients to shot glass in the order listed above. Tilt the shot glass and pour slowly to get the desired layered effect.
Hot Apple Pie shot
1 ounce Irish cream
1 ounce cinnamon schnapps
Float of Bacardi 151
1 dash fresh cinnamon
Add Irish cream and schnapps to shot glass. Float the Bacardi 151 on top and sprinkle with cinnamon. Light Bacardi and cinnamon, which should create a sparkling effect. Let burn for a few second, then blow out. Be careful taking the shot as the shot glass may be hot.