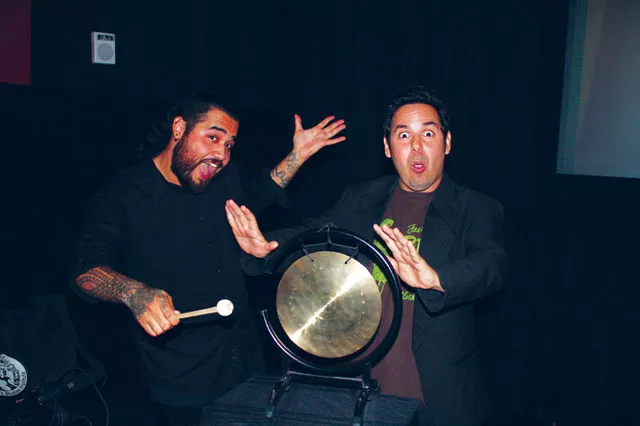 Courtesy photo
Eric López (winner of the first round) and Gong Shorts host Jade Esteban Estrada.
The Gong Shorts is the film industry's version of a high school student council election: those with the most friends, the coolest title, and the thickest (blemish-free) skin win.
San Antonio-based writer Kimberly Suta was inspired to start the film festival in 2011 after a visit to Tucson's rowdy First Friday Shorts. The challenge, if you wish to accept, is to submit a film 3-15 minutes in length, which is screened for three minutes and paused. At this point, the audience can either yell "gong" or "continue."
Almost-three rounds in and Suta says San Antonio filmmakers are still intimidated by the festival's theme.
"[Because] it's kind of set up to be funny, [filmmakers] feel like they're getting set up to fail, which they're not," Suta said. "If it's a good film, people are going to watch it. People want something to win, but they're definitely happy to gong it."
San Antonio filmmakers, it's time to get schooled — can't you take a joke instead of taking it so personal? True, the festival could and should have a better elimination system, but it's also true that the overall quality of the festival could improve if more of our best filmmakers would submit their work. But they don't — nobody wants to be gonged. That's understandable. What's harder to understand is why would anyone submit a film and not show up to the event.
Sam Lerma knows it's not all about winning, and should be commended for that. But if you're going to submit a short film, wouldn't you want to attend the festival to at least gauge the crowd's reaction? Lerma says he couldn't attend for the last round (thus, he was automatically disqualified), but he did attend the first edition, when a group of "some jackasses" yelled "gong!" before the allotted time during every short, except their own.
"It was annoying," said Lerma. "I will continue submitting, but would attend again [only] if I knew the gonging process was handled better, and the films were at least selected by some committee or judges of some sort." The Gong Shorts screen all of the first 20 films submitted.
Comedian Jade Esteban Estrada, the Gong Shorts emcee, admits the festival has experienced growing pains. However, despite its formatting setbacks, Estrada says the event provides filmmakers with the unique opportunity to experience either immediate gratification or rejection.
"I'm used to that kind of rejection," Estrada said. "Filmmakers can't handle that kind of rejection. As a stand-up comedian I can make an immediate recovery. Filmmakers can't."
PROS AND CONS
Continue!
• No entry fee
• Once gonged, twice shy? Rework and resubmit the same film
• Accepts all genres (except porn)
• Immediate audience feedback
• The screening of your film is guaranteed, as long as it is one of the first 20 submitted
GONG!
• Whoever brings the most friends usually wins
• The films should speak by themselves. Introduce filmmakers afterwards, not before
• Voting rules not effectively enforced: if a minority of gongers are louder than you, you're screwed
• Immediate audience feedback
• The screening of your film is guaranteed, as long as it is one of the first 20 submitted
The Gong Shorts Film Competition
$9
7pm Wed, Sep 12
Alamo Drafthouse Park North
618 NW Loop 410
(210) 677-8500
drafthouse.com