California brewery Sierra Nevada announced a voluntary recall on Sunday of select 12-ounce bottles that could contain a "small glass packaging flaw," meaning there could be broken glass in your beer.
Though the brewery believes only 1 in every 10,000 bottles have been effected, Sierra Nevada is taking precautions. According to a statement from the company, batches of Pale Ale bottled between Dec. 5, 2016-Jan. 8, 2017; Torpedo Extra IPA, Tropical Torpedo, Sidecar Orange Pale Ale, Beer Camp Golden IPA, Otra Vez, Nooner and Hop Hunter IPA bottled between Dec. 5, 2016-Jan. 13, 2017 could be impacted in 36 states, including Texas.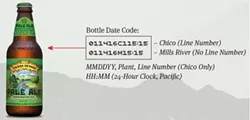 If you're not sure how to check if your beer could contain glass, Sierra Nevada has provided a handy guide. Canned and draught beers, as well as Sierra Nevada variety packs, 24-ounce bottled beer, 750ml bottled beer and Chico, California-produced Sierra Nevada beer are not impacted by the recall.
For more information, you can check out the brewery's original statement
here
.