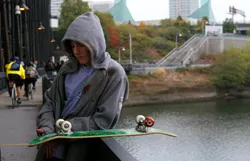 Gabe Nevins loiters in Gus Van Sant's contemplative Paranoid Park.
Paranoid Park
Director:
Gus Van Sant
Screenwriter:
Gus Van Sant
Cast:
Gabe Nevins, Jake Miller
Release Date:
2008-03-26
Website:
http://www.paranoidpark.co.uk/
Rated:
R
Genre:
Drama
Funny that, of all things, it's Kevin Smith's cheekily self-aware 2001 grab-bag Jay and Silent Bob Strike Back that springs to mind here.
Or, more precisely, one belly-laugher of a cameo does. Recall: On the imaginary (thus far) set of Good Will Hunting 2: Hunting Season, a frost-tipped-and-track-suited Affleck — fresh from a now-nigh-immortal bout of "Lion Face, Lemon Face" with that blond feller that doinks Sarah Silverman, as the song goes — looks off-camera and asks, innocently, "Where we taking it from, Gus?" Cut to a reveal shot of a seated Gus Van Sant, who, without looking up, drops a dismissive "I'm busy" and continues counting stacks of cash by Snakelight.
Funny as the gag was seven years ago, the thought of Van Sant helming anything even approaching a big-budget sequel these days — in the wake of such fare as Gerry, Elephant, Last Days, and, now, Paranoid Park — seems nearly as ridiculous as anything else in Strike Back, a film whose climactic battle, by way of context, features the use of a bong lightsaber.
Park, based on the young-adult novel by Blake Nelson, features many of what have become Van Sant's hallmarks: poetic, mesmerizing visuals; limited concern with traditional narrative; a Portland, Oregon, setting; contemplative shot lengths; a young, male protagonist. Indeed, there is a distinct sense that what unfolds here (young skateboarder tries to fit in at rough-and-tumble skate park, becomes emeshed in murder investigation) could be happening across town from, or even at the same school as, the events of Elephant.
The problem, for me, is that the largely inexperienced actors of Park are asked to sustain a much more character-dependent story than those of Elephant, and the illusion is too often shattered. To be sure, there are moments of authenticity that would be difficult to attain in a more "controlled" setting (a scene in which the protagonist's younger brother excitedly reminisces with him about Napoleon Dynamite is irreplicable and, in the moment, immensely touching), and a narrator who trips on his voiceover now and again is a bit interesting, but when you keep enough takes in which kids glance inadvertently at the camera, experimental flick or no, you run the risk that some audience members will be taken out of the story. I know; I'm one of them. •