A washer and dryer. A bathroom not shared with 20 people. A bed larger than a shoe box. These are all things that college students will miss as they head back to school. For some, these luxuries pale in comparison to another comfort of home: real food.
You can cope with this, however. Whether you're a first-semester student who has already had his or her fill of cafeteria food or someone who wants to break in your new apartment with a group of good friends, you can make your new place warmly reminiscent of your old.
After years of hot-plate mishaps, most colleges have decided that a microwave is all a student needs for food preparation. While it might seem limiting to have to prepare most of your food in a 10-inch box, college students — being the innovators that they are — have found ways to overcome.
While simple meals in microwaves will keep any college student from going hungry — basic rice dishes, sandwiches, and pasta are all foods that are surprisingly easy to make — more complicated dishes for the adventurous can be found online and in specialty cookbooks.
For those who are past cooking on a rotating plate and have moved into a place of their own with a kitchen, the opportunities to play chef increase dramatically. A real oven and stovetop, along with all of the other amenities in a kitchen that doesn't double as the top of your roommate's dresser, will have you saying goodbye to the cafeteria.
Before you even see your empty pantry, though, make sure to take a skillet from the back of mom's cabinets, because it will be your best friend once you have a stovetop burner to call your own. You can use it to make migas for the morning after by sautéing tomatoes, onions, peppers, and tortilla strips (the 49-cent-a-bag corn variety, of course) in a little bit of oil and then adding scrambled eggs and cheese. You can also use it to make chicken-fried steak or any other pan-fried concoction.
An Asian-style stirfry is easy and a good way to use vegetables that you can't think of any other use for. Sandwiches like the mozzarella-parmigiana-tomato grilled cheese that you thought were so great in your microwave will taste even better in your skillet. Searing may be the best use of all for the skillet, giving steaks, burgers, poultry, and fish a crisp outside while still maintaining a juicy, tender inside.
You'll also want to find some pots to make great soups and sauces, and a casserole dish will give you the chance to use your oven and impress your friends.
The other thing guaranteed to impress your friends is a good party. Graduating from Velveeta and Rotel to a real cheese sauce (made by browning flour in butter and then adding milk and cheese) and fresh tomatoes is sure to draw wows. Exotic cocktails (of both the alcoholic and non-alcoholic variety) will make your party stand out from traditional rum-and-coke affairs. No matter what direction you decide to take, it's a great way to impress your friends and have fun in the kitchen at the same time.
Whatever your aspirations are, whether it's making your own version of one of your favorites or showing off your creative side with food, college is the perfect place to do it. •
---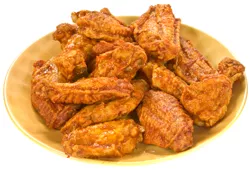 1. Eat
Spicy Grilled Chicken Wings

From The Cheap, Fast & Easy Cookbook
Equipment needed: small bowl, zip-top plastic bag, electric grill, paper towels
Preparation time: 10 minutes to assemble, 1 hour to marinate, less than 10 minutes for each grilled batch
What you'll need:
2 tablespoons vegetable oil
2 tablespoons Worcestershire sauce
1 tablespoon hot sauce
4 pounds fresh chicken wings (about 24 pieces)
1 cup of bottled blue-cheese dressing (substitute ranch if you prefer)
Celery sticks
In a small bowl, stir together the oil, Worcestershire sauce, and hot sauce. Taste: If you can handle a spicier sauce, add more hot sauce, but no more than 5 drops at a time. Put the chicken wings in the plastic bag and pour in the marinade; seal and shake the bag to distribute. Refrigerate the bag for at least 1 hour, shaking it occasionally. Preheat electric grill as directed. Remove the wings from the marinade and pat them dry with paper towels. Throw out remaining marinade — don't use as a basting sauce because it may contain bacteria from the raw chicken. Arrange as many wings as can fit on the grill. Close the grill and cook for 5 minutes, then repeat with remaining wings.
Servings: 6, assuming 3 to 4 pieces per person
Microwaved Loaded Potatoes
From allrecipes.com
An easy potato dish that can serve as a flavorful lunch or the perfect complement to any entrée.
What you'll need:
1 large baking potato
1 ½ teaspoons butter
2 ¼ teaspoons grated Parmesan cheese
1 dash of dried rosemary, crushed
2 tablespoons shredded cheddar cheese (optional)
1 tablespoons bacon bits (optional)
¼ green onion, chopped (optional)
Salt and pepper to taste
Start by washing the potato, then cut it width-wise thinly. Don't slice completely through the potato — it should be in one piece (albeit with large cuts) when through.
Spread butter across the top of the cut potato. Microwave uncovered for one minute or until the butter has melted into the potato. Remove the potato from microwave and place salt, pepper, rosemary and Parmesan cheese inside the cuts and on top of the potato. Microwave uncovered for 10-16 minutes, or until tender. Once tender, remove from microwave and top with cheddar cheese, bacon bits and green onions, if desired. Return to microwave to melt cheese, about 1-2 minutes longer.
---
College isn't remembered for being one of the best times of your life because of the early-morning classes or the minimum-wage on-campus jobs, but because of the spontaneous gatherings with your friends who just happen to live seconds away. You've got four (five?) years of this though, so you don't want the parties to be the same-old same-old by the time your fall mid-terms roll around. Be bold with drinks, food, or anything else that brings you and your friends together.
Here's a couple of drinks to get started — add a blender to give new life to old favorites and cool you off in the South Texas heat. Food is always good, but remember to pair your drinks and your hors d'oeuvre. No one wants to wash down double-chocolate fudge cake with neon-green lime margaritas.
Raz Flute
From uvvodka.com
2 parts raspberry flavored vodka
1 part Triple Sec
Lime juice to flavor
Serve over ice (If desired, vodka can be stored in the freezer to make drinks colder)
Trying out different flavored vodkas can help you vary your drink selection without accumulating a cabinet full of obscure liquors that you can only make one drink with.
Not So White Russian
1 part coffee liquor (such as Kahlua)
1 part vodka
3 parts chocolate milk
Serve over ice
This drink is a darker take on the white Russian. The chocolate gives the drink a mocha flavor, making it perfect for dessert.
Cape Cod
3 parts cranberry juice
1 part lime juice
Serve over ice
A non-alcoholic version of everyone's favorite, this sweet and tangy drink is great anytime and a jigger of vodka can easily up the fun quotient.