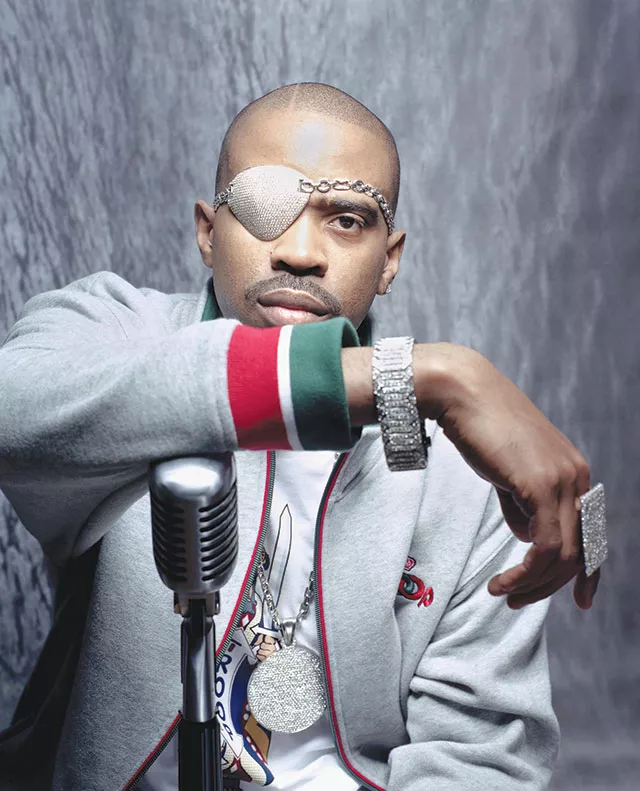 Courtesy photo
Slick Rick to knock 'em out at the Korova
As rap legends go, Slick Rick is as unlikely as they come. For your consideration: The London-born, Bronx-bred emcee sports a British accent; his best known song is the adorably titled "Children's Story;" and, blind in one eye, he made the blinged-out patch a thing in hip-hop fashion. This unlikeliness, of course, has been the key to his success, and partially why no rapper has yet to match his unique gifts as a lyricist.
Richard Walters, known since 1983 as Slick Rick, had the aspiring rapper's fortune of growing up in the late-'70s Bronx, the epicenter of hip-hop. Though respected as an emcee within New York's burgeoning battle scene, it wasn't until Rick, known then as Ricky D, met up with beat-boxer Doug E. Fresh that the rapper began to hit nationally. The pair cut two singles—the cheeky "The Show" and the fully a cappella "La Di Da Di"—both of which stand alongside "Rapper's Delight" and "The Message" in the cannon of quintessential early hip-hop. "La Di Da Di" in particular brought to the forefront all the gifts that Rick would come to be known for: his constantly shifting flow, his sly use of melody, and his clear, carefully pronounced delivery.
Classic though the Doug E. Fresh singles were, Rick will first and foremost be known for his masterpiece debut The Great Adventures of Slick Rick. Though Adventures didn't invent the hip-hop narrative, Rick established it, in Outkast's words, as Da Art of Storytellin' with songs like "Children's Story," a cautionary tale with a cast of characters rendered by Rick himself. "Children's Story" is just one facet of Rick's many lyrical tendencies, which swing just as easily to the misogynistic and remarkably vulgar, like Adventures' bookend tracks "Treat Her Like a Prostitute" and "Lick the Balls." Even then, it's a shame that the self-conscious honesty and humor Rick introduced would be largely wiped off the radar of popular hip-hop following the explosion of gangsta rap in the early '90s.
Though Slick Rick may have seen continued success in the gangsta era, in 1990 Rick hit a snag after he shot his cousin, then led police on a high-speed chase around the Bronx. His five-year sentence derailed the momentum afforded by his platinum selling debut, one that he failed to regain on subsequent releases. It wasn't until 1999's The Art of Storytelling that Rick truly hit his stride again. By simply offering exactly what its title promised, Rick quickly solidified his place again as rap's chronicler-in-chief.
Though he stayed away from gunplay, Rick still struggled to shake his legal problems. The second round of trouble dealt with his citizenship status, unresolved since his childhood move from the U.K. After trying (not very hard apparently) to deport the rapper since 1991, the law finally caught up with Rick in 2002 and threw him back in prison. It took until 2008 for the rapper to receive a full governor's pardon and shake any future legal pains.
Understandably, all this has severely hampered Rick's ability to make any new music, and as such he hasn't cut a record since Y2K. His current tour, which rolls through the Korova this Saturday, seems to be a gearing up of sorts. Celebrating the 25th anniversary release of Great Adventures, the show aims to offer a set spanning across Rick's 30-year career as an emcee, as well as an in-person reminder of his status as one of hip-hop's all time greats.
Slick Rick
$15-$20
Sat April 12, 8pm
The Korova
107 E Martin
ticketfly.com