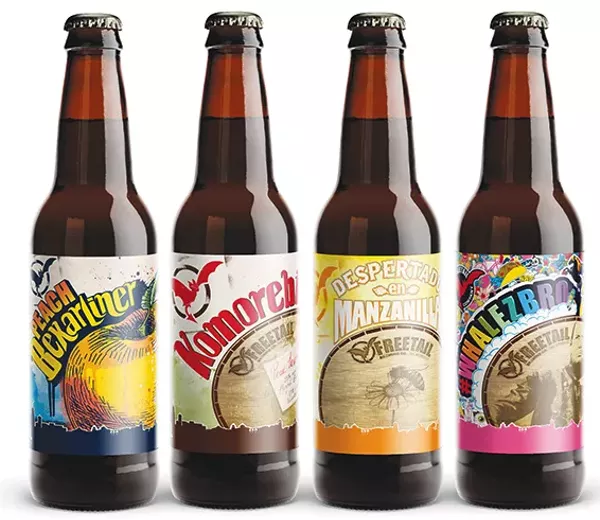 Courtesy
Freetail is releasing four beers in September, Peach Bexarliner, Komorebi, Despertado de Manzanilla and a #Whalezbro
It's a Lisa Frank wet dream — there's a nuke-strapped lady Sperm whale spewing flames from her blowhole, a purple-black pega-bat horse with flowing pink mane and a tame uni-kitty tabby.
They all made the cut for a flyer not for a drug-fueled rave but to spread the news of Freetail's "Super Mega Awesome Bottle Release Day," or SMABRD '15 for short, scheduled for August 29.
Much like its flyer-making skills, Freetail's beer has also come a long way.
Next month marks a year since Freetail Brewing opened at 2000 S. Presa St. As one of the first major craft breweries to come out of SA in recent years, Freetail is known for throwing legit shindigs to celebrate the release of certain bottles since its early days as a wee brewpub on the city's North Side.
There's La Muerta, an imperial stout brewed for Día De Los Muertos (which pairs with smoked foods, dark chocolate, pan dulce and "fond memories," according to the brewery's site); and a recent launch for its barrel-aged Local Coffee stout bomber made in conjunction with neighboring Merit Roasting.
But the largest multiple release is held during the SMABRD, often preceded by an intimate bottle share made up of hardcore beer enthusiasts.
"If you want to show up to the bottle share and get in on that, come strong," said Jason Davis, director of brewing operations ("funk master" according to his business card).
"Don't be showing up with something you just went down and bought at Central Market that day," Davis affirmed.
The bottle share is usually made up of unique, difficult-to-source bottles, noted Davis, who doesn't usually partake in the sharing.
"You'll see a lot of our vintages, which is nice, but they'll usually keep La Muerta for that release," he said. Other finds might include sours, barrel-aged beers, funky lambics and rare brews out of Jester King in Austin or Hill Farmstead in Vermont.
As this is the first major bottle release day at the new brewery, rules have been set in place to help ease growing pains. Fans of SMABRD can start lining up at 8 a.m. for numbered wristbands.
Beer sales start at noon, with owner Scott Metzger and other members of his team calling batches of numbers up to buy Freetail bottles. The bottle share will continue through 1:30 p.m.
There will be four beers up for grabs in limited quantities: Komorebi, a Belgian-style tripel fermented on pears and aged in 1/3 mezcal barrels and 2/3 wine barrels out of A-Z Wines; Peach Bexarliner is an imperial Berliner-weisse aged on peaches; Despertado de Manzanilla, a Witicus with a focus on chamomile. The fourth bottle, a #Whalezbro with aforementioned Lisa Frank-like labeling, will remain a mystery until the next day. All we know is it contains a blend of five different barrels.
"The secret beer is really good," Davis teased. "It will not disappoint."
The previous iterations of SMABRD, held every August since 2012, catered to around 200 people. But it's safe to assume, taking into account Freetail's expansion, that this year there will likely be more beer fanatics in the house.
Freetail's growth keeps Davis busy these days — he delegated brewing duties to Nick Adcock, now the headbrewer downtown.
Davis oversees the upkeep of raw materials, from CO2 to grain and hops, while trying to predict which ingredients to stock up on as operations increase.
"Everything has been a surprise," Davis said of Freetail's lineup and how well it's done on shelves and in draft.
As Freetail goes into its second year of brewing at this location, it's working on increasing its footprint across the state. Three new sales reps were hired to work their magic in the Houston area, while deals are being developed with distributors to supply Freetail beers throughout the Hill Country and the
Gulf coast.
Next up? Austin. Freetail will make its first appearance at the Texas Craft Brewers Festival on September 19 in Austin with a special small-batch brew.
But the San Anto market is still home — dinners are in the works with Goro Pitchford of Godai Sushi; bendy beer lovers can enjoy a sweaty vinyasa sesh every Thursday with Mobile Om inside the main brewing room; and more movie nights are lined up throughout the fall, along with a block party still in the works with Merit Roasting.
As for SMABRD '15, BeerAdvocate user kmello69 sums up how to plan the day around the event:
"Show up. Get free wristband. Get absolutely hammered at bottle share. Laugh at Scott's Bain impression. Take a nap behind the dumpster. Spend lots of $ at Freetaill. Vaguely remember having an amazing time the next day. Freetail shares really are the best. :) See you animals there!"
Freetail Taproom
2000 S. Presa St., (210) 625-6000, freetailbrewing.com