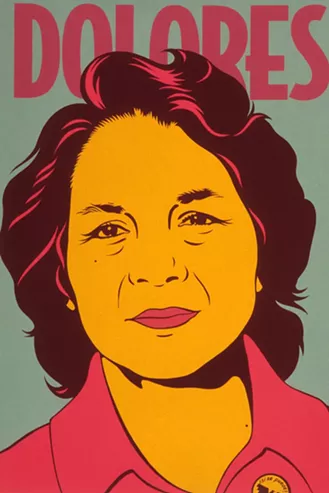 "Dolores Huerta" by Barbara Carrasco, Silkscreen, 1999, National Portrait Gallery, Smithsonian Institution, © 1999 Barbara Carrasco
From fighting for farm worker rights in the fields to being honored by President Barack Obama to being featured in the Smithsonian's National Portrait Gallery, Dolores Huerta is a true American hero.
Huerta, who co-founded the United Farm Workers with Cesar Chavez, is featured in the Smithsonian's "One Life" series.
She's the first Latina honored in the 11th installment of the Portrait Gallery's series.
Huerta was a union lobbyist and contract negotiator who was instrumental in acquiring legal rights and better standards of living for farm workers.
"I am proud that the National Portrait Gallery will recognize the invaluable contributions to the history of this nation made by Dolores Huerta," Kim Sajet, director of the museum, said in a press release. "The exhibition will be a visual study of Huerta's commitment to the multicultural, nonviolent farm workers' movement, her motivations and her organizing methods."
Huerta also tore down the glass ceiling for women working in organized labor — a male-dominated field.
Mexican-American women were expected to dedicate themselves to family, but Huerta achieved new models of womanhood — while raising 11 children.
She will be the second living person featured in the "One Life" series, which opens July 3 and runs through May 15, 2016 in Washington D.C.
The exhibition is managed by Taína Caragol, who is the museum's curator for Latino art and history. The show will feature more than 40 objects, including photographs, original speeches she gave to Congress, UFW ephemera and Chicano artworks.