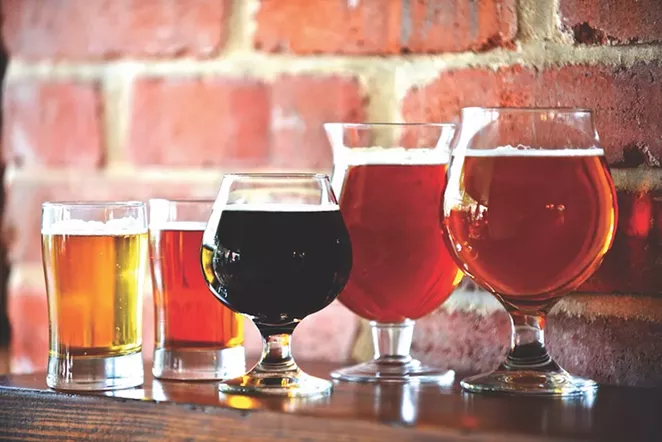 Indulge in a lunchtime beer at the Granary Brew & 'Cue.
It's already such a perfect day. You've sipped sangria in the park and fed animals at the zoo, but now it's your turn to grab a bite and sneak a beer (or two). The spots named below offer solid grub selections and open their taps by noon, so you'll have no trouble nursing a lunchtime coldie during the heat of the day.
If you've been kicking around in Tobin Hill already, hoof it over to the Pearl (303 Pearl Pkwy Suite 300, 210-212-7260, atpearl.com) to hoist a pint at either of the brewhouses doing Otto Koehler proud. Hit up the Granary Brew & 'Cue (602 Avenue A, 210-228-0124, thegranarysa.com) for the fraternal pairing of Tim Rattray's barbeque and Alex Rattray's beers. I advise ordering a flight, but if there can be only one, make it the rye saison.
Perhaps you and/or the squad are more inclined to snapper throats than smoked beef. If so, take a short stroll over to Southerleigh Fine Food and Brewery (136 E. Grayson St., 210-455-5701, southerleigh.com) where Les Locke and his team keep dropping bangers from the upstairs brew-works. From the mint-tinged Texas Uncommon to the entire range of barrel-aged beauties they've started rolling out (double-check for the Shellfish Porter), awesome ales await you.
Southtown was built on day drinking. Take advantage of this at Stella Public House (1414 S. Alamo St., 210-277-7047, stellapublichouse.com) whose taps glisten with the dankest IPAs and funkiest farmhouses available to accompany your pizza. And, to drink as locals have drunk for the past 20 years, stroll around the corner to Blue Star Brewing Company (1414 S. Alamo St., 210-212-5506, bluestarbrewing.com).
Cruise on up 1604 to The Hoppy Monk (1010 N. Loop 1604 E., 210-545-3330, thehoppymonk.com) for reliable shelf whale (or draft orca) sightings — if the beardos are bragging about it on Untappd, they probably drank it here. And, if your perfect day entails actual orcas, dip into Hills & Dales (15403 White Fawn Drive, 210-695-2307) — conveniently located across the street from the visionary Vietnamese food truck Singh's — before you go see Shamu.