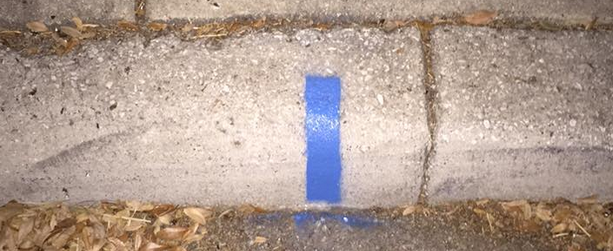 Anthony Welichko | Facebook
No one is arguing that police have a tough, dangerous job. And no one's saying police don't appreciate community support, especially as the country has difficult conversations about police-related violence.
But police don't need civilians backing them up, and they'll will tell you as much.
However, an internet campaign created by San Antonio resident Anthony Welichko, while well intentioned, is actually a really bad idea, according to the sleuths at the fact-checking, mystery-cracking website
Snopes
.
Here's Welichko's post — it has 77,876 likes as of Thursday afternoon — that has people talking: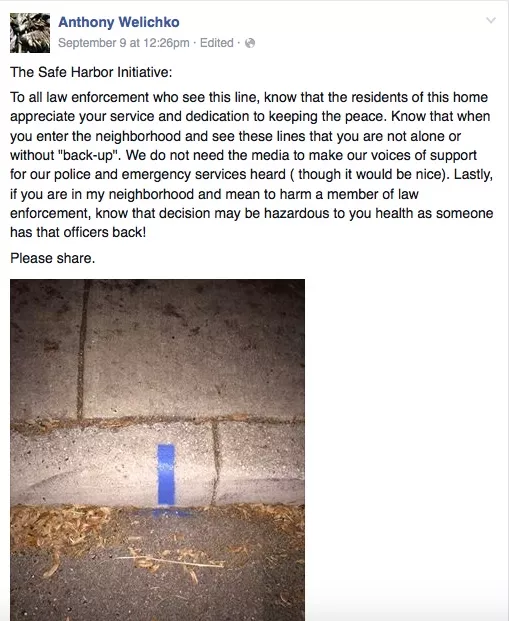 So here's why this isn't really the most effective — or smart — way to show support for police, according to Snopes.
First off, police do not need civilian back-up. And at any crime scene or ongoing dangerous situation, police want to make sure people are safe and out of the way. Police officers do not need untrained back-up attempting to assist them.
Secondly, blue is a popular color used by public works departments to designate where future work is needed.
Nonetheless, Welichko's post has grabbed a lot of attention. So much so, that he took to Facebook to make a few clarifications about his Safe Harbor Initiative.
Folks I would like to take a moment to clarify a few things regarding the Safe Harbor Initiative. This idea came to me as a way to show our law enforcement professionals that they are supported and appreciated. Too much attention ( in my opinion) is being given to those who wish our first responders harm and not enough to the majority that appreciate the risks these fine men and women take every day to protect us. This is not an organized movement requiring one to join, sign-up or reach out for permission. If you wish to show your support the same way I have then grab a can of paint and go for it. I have come to understand that many utility companies also use a blue line to mark water lines. If this is the case in your area then add a little something else to it. Or, in the case of those without a curb, use a large rock or a nice block from the hardware store. This initiative has grown into what I had hoped, the silent majority coming together to show our police they are not alone, are greatly appreciated and fully supported in our communities.
Despite this not being the best way to support police, Welichko's still encouraging people to put things or paint things in front of their house to let police know they have "back-up" — even if it's in a way that's useless.