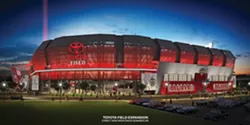 An artist rendering of the planned expansion of Toyota Field. Courtesy of Soccer for a Cause.
A week after a San Antonio City Council member said the Alamo City should seek a Major League Soccer expansion team, Soccer for a Cause unveiled a proposed $38 to $45 million expansion at Toyota field.
Gordon Hartman, who launched Soccer for a Cause to bring professional fútbol to San Antonio while simultaneously benefiting the special-needs community, said the proposal, which was designed by Pro Sports Developments (PSD), would add 10,000 more seats. According to a press release, 9,000 of those seats would be on a new upper tier "that would create a bowl-like configuration around the playing field."
Last week, District 10 Councilman Mike Gallagher submitted a Council Consideration Request for a resolution that would affirm the council's desire to bring Major League Soccer to San Antonio. In a press release, Gallagher touted the success of the Scorpions, who play at Toyota Field, and said the "soccer-specific stadium" was designed for easy expansion to meet the MLS standard of seating capacity for at least 18,500.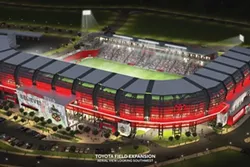 An artist rendering of the planned expansion of Toyota Field. Courtesy of Soccer for a Cause.
The proposal also calls for 18 suites that could each fit 24 fans, or about 432 fans. Toyota Field currently has eight suites. Additionally, three new clubs are proposed—the East Club would have 130 balcony seats, the West Club would have 40 observation-terrace seats and a Members Club. According to the release, both club patrons and suite holders will have access to a new entrance, which is directly across from existing reserved parking.
The proposal also calls for enhancements to concessions, restrooms, merchandise outlets on each stadium level, field lighting for Division 1 network broadcasting and a team store that fans could access from both inside and outside of the stadium.
Finally, Hartman said a high-powered beam of light will shoot into the night sky during Scorpion matches that will be visible for miles to remind residents the home team is on the pitch. The light will turn red when the Scorpions score a goal.
"The escalating interest in the Scorpions and professional soccer over the past two years has been mind-boggling," Hartman said. "We are blessed to be a franchise playing in the North American Soccer League. However, we must be prepared to expand once support and investment are secured to allow for additional opportunities."
Namely, one of the 24 expansion teams that MLS wants to add by 2020; and to be sure, the Alamo City isn't the only metropolis vying for one of those teams.
Hartman owns the Scorpions and all net profits from the team and Toyota Field go to Morgan's Wonderland, an amusement park that provides accessible outdoor facilities for people with special needs.