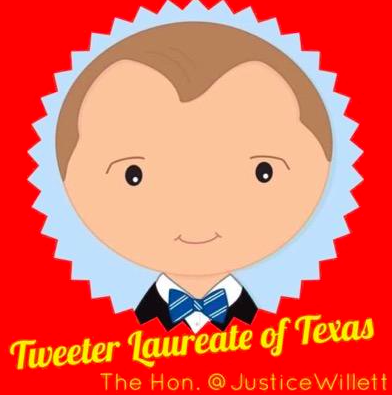 Via Twitter user @JusticeWillett
Texas Supreme Court Justice Don Willett is now the state's "Tweeter Laureate."
Texas has an official everything. Our state bird is the mockingbird, our state sport is rodeo, our state fiber is cotton, our state cooking implement is the Dutch oven.
And now, Texas has a state tweeter: Texas Supreme Court Justice Don Willett, also known as
@JusticeWillett
.
During the dog days of the legislature, Texas lawmakers appointed Willett to be the state's first ever "Twitter Laureate" — complete with a social media-friendly resolution replete with hashtags:

The title doesn't come with any official duties. It's more of a silly, symbolic recognition of Willett's on-point Twitter game.
Willett's a prolific tweeter, having fired off nearly 17,000 tweets since he joined Twitter in October of 2009. His timeline doesn't have much of the dry legalese you'd expect from one of the state's top judiciary minds (although there is a bit of that). Goofy memes, puns, cat jokes and his three kids (dubbed "wee Willetts") are more in his wheelhouse.
Here's a sampling of Judge Willett's finest work: