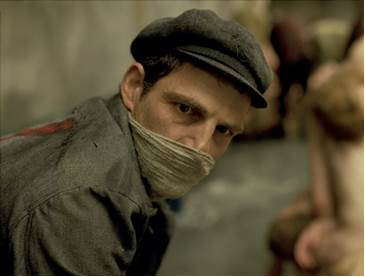 Courtesy
Saul played by Géza Röhrig
Son of Saul
is shot literally over the shoulder of a prisoner in a Nazi concentration camp. Over the shoulder of Saul.
Saul Ausländer exists between several worlds. He is a Hungarian Jew in a concentration camp – an existence of silent passivity and muted acquiescence to his hateful captors. He is also a member of the Sonderkomando, the selected group of prisoners chosen to head a larger group of interned Jews. As a Sonderkomando, Saul must not only clean the gas chambers after he has knowingly lead his people into them believing they were "showers," but he must also answer to the Nazi officers as their liaison to the detainees, the Nazi overseers stepping in only for the occasional autopsy or act of humiliation and sadism.
Saul also navigates between life and death. All around him mortality is being exercised and annunciated. Until the death that he abets to momentarily avoid his own becomes matter-of-fact, the business of survival. Saul does exactly what he must do to not be killed himself. It's in the wrinkles in his face and the hunch of his frame, Saul and his fellow prisoners' will to survive is their communal demise, but their personal survival.
In this dimension of unfathomable anxiety, Saul believes he sees his son. From beneath a pile of corpses the boy gasps for air.
Minutes later Saul begins his search for a Rabbi to say the mourner's Kaddish, or Jewish burial prayer, for his boy. This is where the real story of Saul's existence, his embattled walk between life and death, murderer or Machiavellian survivor, begins. Saul is wracked between these worlds. One, a world of commitment to his people to do whatever he can to protect and possibly aid them in escaping – for his fellow Sonderkomandos plan just that – to his instinctual commitment to himself to survive, along with his commitment to his son – to see that he has a proper Jewish burial, an act that is suicidal as well as brave beyond comprehension under the circumstances.
What
Son of Saul
speaks to, at least to this reviewer, is the weight of choice that bears down upon someone in a position of seemingly impossible survival. What allegiances does one uphold when every decision could lead to death of one's self or their neighbors, loved ones, family? Their people? It illustrates the terrible inhumanity of forcing these decisions onto humans, the gravity of other's mortality and the constant pressure to decide what is right in the most wrong of situations.
Son of Saul takes place over one man's shoulder, as an angel or devil or something in between, following someone who will potentially forfeit their humanity and their life to honor another's.
Son of Saul
is directed by László Nemes, written by
Nemes and Clara Royer and stars Géza Röhrig, Levente Molnár, Urs Rechn, Todd Charmont, Sándor Zsótér, Marcin Czarnik, Amitai Kedar.
Son of Saul
begins showing Friday, February 19 at
Santikos Bijou Cinema Bistro
.