After the success of the last year's inaugural Sound on Sound Fest (which, let's get real, was basically Fun Fun Fun Fest 2.0), the Sherwood Forest festival is back with a new lineup that looks pretty impressive.


Started by Graham Williams, who was formerly responsible for booking at Fun Fun Fun Fest and played a pivotal role in the success of promotions company Transmission Presents, the 2017 SOS Fest will once again play host to a wide mix of music spanning many genres and tastes, as well as a variety of medieval-style activities and games, comedy stand-ups and panel sessions, on-site camping, and more, all across three days in the heart of Central Texas.

"Heads Will Roll" indie rockers, Yeah Yeah Yeahs, will headline the fest after a four year break from any performances, as well as Iggy Pop, Grizzly Bear, The Shins, Blood Orange and Pusha-T, to name a few.


Despite the lack of any San Antonio band representation (keep SA lame right?), the fest does include a host of regional talent including Austin's noise punk duo Street Sects and DFW thrash metal revivalists Power Trip.

Something pretty awesome about this year is SOS Fest has worked to expand shuttle, transportation and parking options for ticket-buyers "to ensure the safest experience for fans in Austin and beyond." In a new partnership with FestDrive, a fleet of shuttles will be transporting fest-goers from all major Texas cities, including College Station, Dallas, Houston and San Antonio, to SOS Fest for $35 one-way or $60 round-trip (shuttle pick-up in San Antonio will be at Paper Tiger).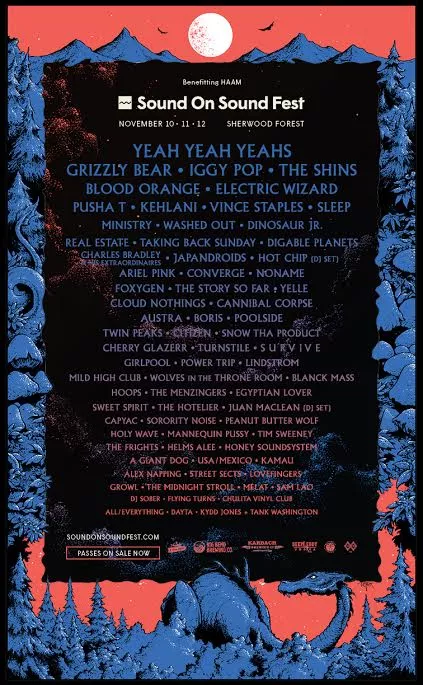 Three-day GA tickets are on sale now at www.soundonsoundfest.com for $189 plus taxes, while three-day VIP passes are also available for purchase for $379 plus taxes. VIP perks will include preferred viewing areas, expedited entry, exclusive food and drink offerings and happy hours, dedicated lounges and restroom facilities, and additional amenities that will be announced closer to the event date.