Bekah McNeel
Rey Saldaña
Right now, somewhere on the South Side, two politicians are probably knocking on doors. Rey Saldaña, the city councilman for the area, is asking the voters of South San Antonio ISD to support a tax rate increase to bring more money into the district. Connie Prado, a South San ISD board member, is asking them to vote "no."
However, they are asking for more than votes. They're asking for voters to place their faith in one of two competing visions for the future of South San.
The ballot measure is technically a "tax ratification election" (TRE), and it's exactly the sort of weedy political issue that puts voters to sleep. If the tax measure passes, the district's tax rate will go up to $1.17 per $100 of taxable home value, a 13-cent increase. It will bring in an additional $6.4 million, 65.6 percent of which will come from the State.
Because the complicated tax measure is only a doorway into even more complicated school finance formulas, a TRE is less about the facts, and more about who's interpreting them for you and what their agendas are.
When Saldaña knocked on one door last week, the homeowner told him that Prado had already been there. In fact, she'd been there for years. "She's supported us," the woman said. That said, she has known Saldaña's family for years as well. The fact that Saldaña and Prado frequently oppose one another had her "torn" on many issues, she said.
"I like that you're from here," the woman said, "But now we don't know who to trust."
Voters might not know who to trust, but they do know what to expect. Saldaña has been an outspoken advocate for change in the district, lending his popularity to education initiatives, including the advocacy group South San Kids First, which has fielded candidates to replace Prado's board allies. Prado herself has survived, but she's lost the majority faction.
Faction is not a word you want describing your school board.
After burning through superintendents at a blinding pace, South San recruited Superintendent Abelardo Saavedra out of retirement in 2013. The veteran of Houston ISD realized quickly that while the schools were in fairly good shape, district administration and the school board were a mess.
To clean up, he had to regain control of district operations, including hiring and firing, a power that formerly rested with the board.
In a tight-knit and economically isolated community like South San, employees can become beholden to board members who hook them up or protect their jobs. That inhibits progress. "You start to set up political sides in reference to issues," Saavedra said. "It divides the staff."
It took a long time to root out competing loyalties in the district. Members of his own team, he found out, were reporting to board members at his expense.
The night Prado was elected board president in 2014, Saavedra says that she told him to clear his calendar for the next day. Among other things, in that day-long meeting she asked him for the names, addresses and phone numbers of everyone who had applied for a job in South San. She wanted to see the list before he made hiring decisions.
"It's an example of how controlling Connie Prado can be," Saavedra said.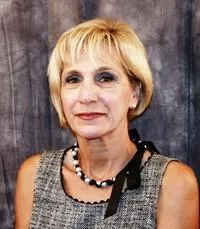 Courtesy
Connie Prado
It also raises some reasonable questions about what she wanted to do with such a list.
He declined to provide her with the applicant information. From that point on, he said, she's constantly opposed him.
Prado sees it differently. She says that, up to that point, it was common practice for board members to look over applicants, particularly for non-faculty positions like janitors and cafeteria workers. She says things didn't get tense until Saavedra and the board differed on pay scale for Master teachers.
As for her relationship to the board, Prado says, "We work together very well on the majority of issues."
On the TRE, however, some board members characterize Prado as "the opposition."
Prado's husband, Raul Prado, a former city councilman who was convicted on corruption charges in 2004, made an in-kind contribution to the PAC that has plastered South San in "vote no" signs. Connie Prado says that his donation had nothing to do with her. "He can do that. That's him," she said.
The same PAC sent out letters to residents telling them that the school district had been irresponsible with its funds. The letter's final "recommendation" is to wait and see if the 2019 legislature will solve the district's financial woes.
Those familiar with the Texas legislature got a chuckle out of that particular argument.
"That's a new one. Points for creativity," said state Rep. Diego Bernal, who has spent the last seven months sitting on the governor's Public School Finance Commission. "We never, ever wait when it comes to our children. Philosophically… (that argument) is incorrect."
On a recent block-walking outing with COPS/METRO, board president Angelina Osteguin also found herself setting the record straight.
She said she approached four doors with "vote no" signs out front. Three of them, once they heard what the tax increase was for, voiced support. "If it's for the kids and for the district, then yes, they were for it," Osteguin said.
The fourth resident, Osteguin recounted, said he didn't trust the district because of all of the past controversy. It wasn't that long ago that the district had a state-appointed conservator.
Prado herself pointed to the district's troubled past in a July 26 op-ed for MySA.com. Closed schools, transportation SNAFUs and an "exodus" of Master teachers, she wrote, were all signs that the district was not well-managed.
The ironic thing about the op-ed, said Tom Cummins, president of the South San chapter of the American Federation of Teachers, is that Prado played a large role in the school closures. The union has been asking for a TRE for years, Cummins said, and Prado was the principal opponent of the measure. He calculates $60 million in lost state revenue that could have saved Kazen Middle School and Athens Elementary.
"We're in an Alice in Wonderland situation," Cummins said, "(Prado is) risking destruction in order to keep power."
She has plenty of critics, but you don't get to be Connie Prado without loyal supporters. They say Prado has been good to them. She shows up at things – football games, award ceremonies.
"She's very visible," Osteguin said.
Even Saldaña gives Prado credit for her political "hustle." However, he wants to see a South San that is politically empowered enough to get what it needs without players like Prado, or even himself, he said. The TRE, which he believes would create a stronger school district, is a step in that direction.
Opponents claim that Prado's patronage of community members goes deeper, that she pays for votes with everything from gift cards to jobs.
"I've never seen someone be able to control so many people," South San resident Francis Bensor said. "She has a bunch of puppets."
Prado chuckles at the idea of herself as a puppet master.
"The people in my community have a mind of their own," she said. They were upset about the closing of schools, and so by opposing the TRE, she says she feels she is representing them. Asking them for more money for the district, she said, would be "a hard sell."
Last week, Bensor was working the polls during early voting, wearing a "Vote Yes" T-shirt paid for by the Save South San PAC. Board members Edward Mungia and Elda Flores, and Superintendent Saavedra donated to that PAC.
For now, the board has the majority that it needs to call for the TRE and support Saavedra as he transitions the district toward a "system of great schools" model. That model will take a lot of power out of the hands of the board and central administration, and place it with campus leadership.
With a board majority supporting him, constant pushback from Prado doesn't bother Saavedra too much. In some ways, he accepts his role as her constant foil.
Now Saavedra is retiring, and four board seats are on the November ballot. The current board plans to name Saavedra's replacement before the elections, but the TRE will say a lot about who has political muscle in the district. Potential candidates for superintendent will be watching.
Stay on top of San Antonio news and views. Sign up for our Weekly Headlines Newsletter.