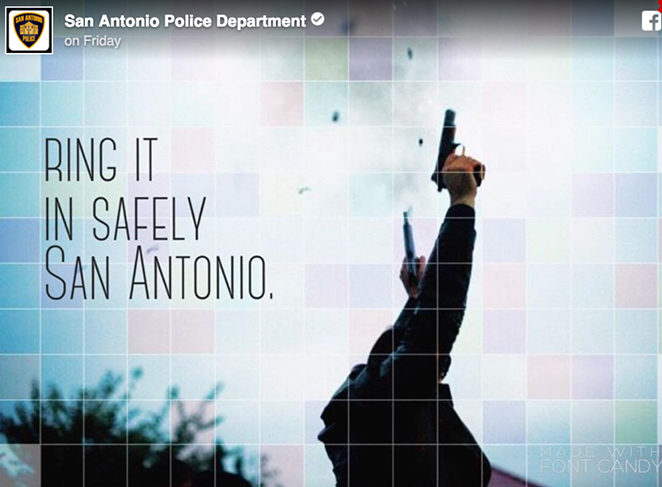 SAPD
The San Antonio Police Department felt it necessary to remind NYE revelers that "celebratory gunfire" is not OK...
A state lawmaker is recovering from what officials are calling a "stray bullet" to the back of his head after "celebratory" New Year's Eve gunfire broke out in his Rio Grande Valley neighborhood this weekend.
The McAllen Monitor reports
that Texas Rep. Armando "Mando" Martinez was welcoming the new year with family and friends in a Weslaco neighborhood when, just before midnight, they heard what Martinez described as "celebratory gunfire" nearby. The group actually sought shelter inside a garage until they thought the gunshots had stopped. Eventually they went back outside to watch some fireworks. That's when Martinez told the paper that, at around the stroke of midnight, right as his wife was giving him a hug and a kiss, "I felt like a sledgehammer hitting the back of my head."
The Monitor reports
that Martinez is now recovering from the wound and is "doing well." Meanwhile, the local sheriff's office has launched an investigation and says it could ultimately file deadly conduct charges. Officials also say Martinez's injuries should serve as an example of the dangers associated with randomly shooting guns into the air to celebrate.
Department spokesman Jose P. Rodriguez told the paper, "We want to remind the public that celebratory gunfire is very dangerous and can cause property damage, and cause serious injury or death." Before the new year, San Antonio police felt it necessary to distribute a similar message reiterating that "celebratory gunfire" is indeed illegal and potentially deadly. Apparently some Texans just need to be reminded of such things.