Most Beautiful Cemetery
Mission Burial Park
1700 SE Military Dr.
(210) 924-4242
obit.missionparks.com
Greg Harman
I'm not one to get weepy in a cemetery. Shamefully, I even lugged off a coveted granite cross in my more expressive years. But a quiet drive past a single row of palm trees quickly put me in a meditative mood. Is it the new graveside ornaments — gently waving fabric pinwheels and baby balloons — or is it just the quietude?
Moving further back into the tomb-speckled landscape of oaks and mesquite, the names of prominent ranchers and politicians start popping up: Kokernots and Hudspeths and Paschals — even Sam Houston's youngest, Nettie, is blocked from the sun hereabouts. Keeping the park in good appearance is a strict set of rules … Plastic flowers are allowed only in season.
2. Fort Sam Houston National Cemetery
1520 Harry Wurzbach
(210) 820-3891
cem.va.gov/CEMs/nchp/ftsamhouston.asp
3. San Fernando
746 Castroville Rd
(210) 432-2303
__________________________________________________________________
Nicest Shrine to the Virgin
Oblate Missions Lourdes Grotto
5722 Blanco
(210) 342-9864
oblatemissions.org
We can hear the polite but firm grumblings emanating from nunneries and rectories across the city: How are we supposed to compete with a lifesize replica of the original, for pete's sake? (Which, to be clear, is not taking St. Peter's name in vain.) Complete with a statue of Bernadette, the poor French girl to whom the Virgin declared herself the Immaculate Conception in a series of supernatuarl visitations that began on February 11, 1858, no less. It's true that San Antonio is covered with beautiful shrines to the Virgin, or just as often her New World counterpart, the Guadalupana, all of them lovely and often in endearing locations (backyards, restaurants). But the Oblate grounds, consecrated in 1941, also include a Hill of Tepeyac site to commemorate La Virgen Morena, the gift shop offers religious keepsakes to sooth a large and diverse flock, and you can ask Mary to intercede for you at two masses daily at the chapel, one in Spanish, one in English.

2. "The Gloria" altar carving, representing St. Thérèse of Lisieux and Our Lady of Mount Carmel, and a replica of the Lisieux sepulchur, the Basilica of the National Shrine of the Little Flower
1715 N. Zarzamora
littleflowerbasilica.org

3. Lourdes Grotto (also a replica of the original)
University of the Incarnate Word
4301 Broadway
uiw.edu
__________________________________________________________________

Best SA Mission
Mission San Jose
6710 San Jose Dr
(210) 922-0543
nps.gov/saan/planyourvisit/sanjose.htm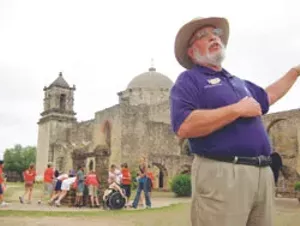 Greg Harman
Sure the Works Progress Administration screwed up some of the recreated elements (oversized chimneys in the ovens and cannon-muzzle openings on the ground level of the corner Bastion) when they gave it a reworking in the '30s, but Mission San Jose is still cooler than the Alamo readers agreed by, like, two-to-one. Especially when you visit the 1700s-era fort/church on a lazy spring day with the Honey Mesquite in bud, it's easy to image this "Queen of the Missions" bustling with quasi-convert natives working to establish Spanish culture on the South Texas plain as the Apache cast a skeptical and pox-marked eye on the whole endeavor.
2. Alamo
300 Alamo Plaza
(210) 225-1391
thealamo.org
3. Mission Espada
10040 Espada Rd
(210) 627-2021
nps.gov/saan/planyourvisit/espada.htm
__________________________________________________________________
Best Place to Get Married
Southwest School of Art & Craft
300 Augusta
(210) 224-1848, ext. 311
swschool.org
The Gothic lines of the limestone French chapel on the grounds of the Southwest School of Art & Craft are clean enough to pass for modern, and without all the church trappings, secular even (its deconsecrated, too). But may we recommend the landscaped lawn and flagstone courtyards overlooking the San Antonio River Walk for your matrimonial union? Especially in the springtime, when oleander, roses, and hibiscus are in bloom and the water turns that magical mosaic-tile green. Put the band in the gazebo, have your guests (up to 500 on the grounds) delivered by river barge, and get hitched under the generous spread of the trees before retiring to dinner under that magnficient chandelier and stained-glass windows.
2. San Antonio Missions, especially Mission San Jose´
nps.gov/saan
3. San Fernando Cathedral
115 Main Plaza
(210) 227-1297
sfcathedral.org
__________________________________________________________________
Best Fourth of July Display
Woodlawn Lake Park
1003 Cincinnati
sanantonio.gov/sapar
A year-round attraction for runners and walkers, the approximately 30-acre Woodlawn (artificial) Lake becomes a destination for Independence Day party people who want to see fireworks reflected on the still waters. (So many pothead jokes, so little time.) It's always near the top of local lists for fireworks-involving holidays (and our staff writer put a bird back in a tree there, an environmental god's equivalent of blessing with holy water.)
2. Tie:
Fort Sam Houston
1210 Stanley Rd.
fshtx.army.mil
Downtown San Antonio
Randolph AFB
Randolph.af.mil
__________________________________________________________________
Good Place to Get Arrested
Fiesta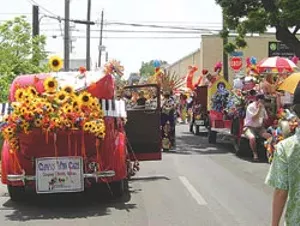 File Photo

This is where you do not want a squad of blues coming down on you: At home, alone, sober, for something you didn't do.
This is where it's kind of funny: At the city's biggest drunkards' bash, surrounded by teams of admiring (drunk) friends, drunk (yourself), and using lots of profanity.
Alcohol numbs the pain of the cinch-ties strangling your wrists. Crowds keep the cops from really working you over (in public). And the number of (drunk) friends you can make on MySpace circulating that video your brother shot of them fishing your stupid ass out of the River Walk … must be in the tens or something! Viva Fiesta!

2. River Walk
3. Anywhere downtown
__________________________________________________________________
Most Likely Street-Art Target
TIE
Blue Star Contemporary Art Center
116 Blue Star
(210) 227-6960
bluestarart.org
Trains
We're not too sure how Blue Star got voted Most Likely "Street-Art" Target (unless you weigh in D. Dominick Lombardi's recently closed show), but we'll take it with a grain of salt. Blue Star has consistently brought in superb art, whether it's inside or out of the premises. Trailing along to clinch second place are area trains, those slow-moving works of art that make the wait a bit more enjoyable. Another target that received much love was the building off of I-35 and San Pedro. Although it may seem vacant, with it nearly being covered in graffiti, our sleuthing efforts found that people, do, in fact, live there. One voter also named Sheila McNeil. We're sure the District 2 Councilwoman is pleased with that nod.
__________________________________________________________________
Best Public-Art Installation
"Light Channels" by Bill FitzGibbons
I-37 underpasses at Houston and Commerce Streets
File Photo
Whenever you're near downtown at night, we urge you to make it a point to cruise down the 1-37 underpass to check out Bill FitzGibbons' LED installation, which functions, as the artist intended, as an invitation to the oft-neglected East Side. If you happen to be coming from the East, it's a great way to enter downtown — exit the understated beauty of St. Paul Square and enter the portal that is the Light Channels and in a blink you're downtown. It's a gorgeous addition to an already invigorated downtown district.
2. Central Library Chihuly sculpture
600 Soledad,
(210) 207-2500
chihuly.com/installations/public/Art/SanAntonioTowerB.html
3. Torch of Friendship
Convention Plaza downtown
Located in the roundabout at the intersection of Commerce, Alamo, and Losoya Streets
__________________________________________________________________
Best place to hide from the kids
Semeneya Ballroom
2899 NE Loop 410
(210) 946-2899
semeneyaballroom.com
Semeneya Ballroom also won Suavest Dance Instructor.
Justin Parr
If you were born to bachata or crave to cumbia but never learned to put those wrinkled old toes to any better use than tapping, there is a man you can turn to, as your fellow residents have learned again and again: Lee Rios at Semeneya Ballroom. A military brat on course for the brass himself, Rios's love of salsa dancing spoiled a perfectly good banking job and future career with the military. Rios broke ranks to start teaching Latin dance out of his home a decade ago. After getting knocked around for a season or two, Rios found his footing. Since then he has gone on to teach and perform in the international cities of Venice, Paris, London, Berlin, and Barcelona.
"It wasn't a pretty picture all the time," he recalls. "There's times I was living like a king and times I was living in the studio because I couldn't afford rent."
Rios's partnership with the accomplished Mario Allva and Liila Roberts is creating a tropical stir in San Antonio's social circles, too. Maybe you're looking to get away from the house or just hang out with some new faces for a while. Semeneya is a "huge networking tool," Rios says. "We get people with low self-esteem and they totally do a 180 … They get to be with people they never thought in their lives they'd be hanging out with." Which may help explain why readers also chose this hot ballroom floor as the best place to hide from the kids.
"It looks like a crazy road, but there's a lot of great things that are happening."
2. Doo or Dye
331 W. Mulberry
(210) 738-8089
dooordye.net
3. The Cove
606 W. Cypress
(210) 227-2683
thecove.us
__________________________________________________________________
Best Place to Hide from Your Parents
Doo or Dye
331 W. Mulberry
(210) 738-8089
dooordye.net
Doo or Dye also won Best Hair Salon/Stylist and Best Hair Colorist.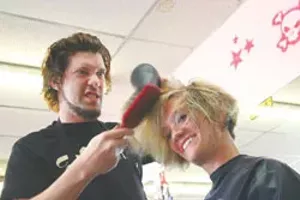 Jeanna Goodrich
Doo or Dye's animated architecture sticks out like a sore thumb in the Monte Vista Historic District. But the salon has been a local staple for 13 years, and says Lee, a stylist at the most popular salon in town, it brings in customers solely by word of mouth.
We went in one day to sample the place, and was greeted by Tyler (she along with the rest of the Doo or Dye crew earned themselves the best hair colorists title); she took us to the backroom to view some products while a young mom with a baby on her lap was getting a trim. We purchased Mercy, a leave-in condition (their own product, by the way), and was given helpful instructions by Lee on how to get awesomely soft hair — and let's just say our very own arts editor has oh-so-soft hair (and at $14 it didn't leave a dent in her wallet).
The salon is full of character. Yes, you have your typical stylist stations, but it's also got a roomy lounge feel going on, too — ideal for hiding from your parents while you're getting your hair dyed a funky fuchsia hue.
Lee mentioned that the salon may branch out to another location, possibly on the North Side, to "make stupid money." We dare you to get a do or a dye, and be sure to tell 'em the Current sent ya.
2. Gigabites & Java
621 E Dewey
(210) 736-3844
gigabitesandjava.com
__________________________________________________________________
Best SA Tourist Destination
San Antonio River Walk
Downtown San Antonio
thesanantonioriverwalk.com
The River Walk also won Sweetest Make-Out Spot.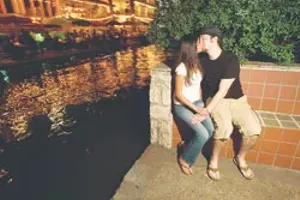 Justin Parr
You've got to give the city props despite the many times they drained the aquifer feeding these springs or moved to pave over this river, because, taking the long view: They didn't. No matter how many floods rushed this international city, ripping impoverished jacal-dwellers into the muck, there were champions enough through the decades that wouldn't let go of the vision of utilizing all that Spanish acequia wisdom for something, well, European. To this day, San Antonio is known for the expanding stretch of restored "river," lined with parks and shops.
On the flip side, we weren't sure if two nominations for the "place where people act like slaves" should go to the River Walk or not. Barring Dick's Last Resort, this service-sector slide of sculpted walkways and bustling restaurants (a short walk from the Alamo — doublescore!) knows how to take care of the sightseeing set. When the khaki shorts dwindle is the best time for we natives to exploit their remains and loiter along this lush passageway.
2. The Alamo
300 Alamo Plaza
thealamo.org
3. San Antonio Missions
2202 Roosevelt Avenue
nps.gov/saan