The Cockettes appear in fine form in Pearls Over Shanghai.

Special Screenings
The Cockettes
Dir. Bill Weber, David Weissman; feat. John Waters, Anton "Reggie" Dunnigan (NR)
Founded by "Hibiscus," a member of a commune dedicated to distributing free food and creating free art and theater, the Cockettes were a flamboyant ensemble of San Francisco hippies who created a political and cultural sensation and influenced the worlds of theater, music, fashion, gay politics, spirituality, and urban club life in the '70s. This film documents their rise from a small but well-loved act to their first show, Pearls Over Shanghai, with all-original script, music, and costumes. — Eric Bradshaw
The Cockettes screens at 7:30 p.m. Monday, June 28 as part of the Diversity Center's "Profiles in Pride" series, at the Sweet Bean Café, 2300 N. St. Mary's. Admission is free. For more information call 223-6106.
---
The Crazy Stranger
Dir. Tony Gatlif; writ. Tony Gatlif; feat. Romain Duris, Rona Hartner, Izidor Serban (NR)
A film with insights into gypsy life, The Crazy Stranger is told through the eyes of a young Frenchman who travels from Paris to Romania searching for Nora Luca, a favorite singer of his recently departed father. He runs into old Izidor the Roman who takes him to his village where he stays for several months. It is not until later that he finds that nobody has understood a word that he has been saying. — Eric Bradshaw
The Crazy Stranger screens at 4 p.m. Sunday, June 27, and 7 p.m. Wednesday, June 30 as part of the Instituto de México's "Ciclo de Cine Internacional" series, at the Instituto, 600 Hemisfair. Admission is free. For more information,call 227 -0130, ext 12.
---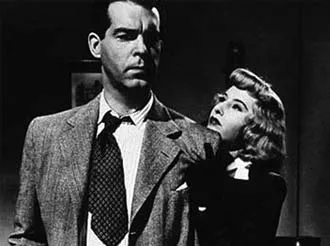 Double dealing and illicit love run rampant in the film noir classic Double Indemnity.

Double Indemnity
Dir. Billy Wilder; writ. Wilder, Raymond Chandler, James M. Cain (novel); feat. Fred MacMurray, Barbara Stanwyck, Edward G. Robinson (NR)
Double Indemnity, released in 1944, comes fairly early in the film noir game, but it's still one of the first movies that comes to mind when that genre's name is uttered. It has all of the accoutrements: A woman, a gun, a man, illicit lust, betrayal on multiple levels, Chandler-esque dialogue, and shadows - plenty of shadows. Man and woman conspire to murder husband, then collect on the insurance policy that man sells woman in the first place. You know from the opening scene it ain't gonna end pretty, but Wilder keeps you biting your nails nonetheless. By John DeFore
Double Indemnity screens 7:30 p.m., June 29 as part of Texas Public Radio's "Cinema Tuesdays" series, at the Bijou at Crossroads Theater. Admission is $10 members / $12 non-members. 614-8977 or tpr.org for reservations.