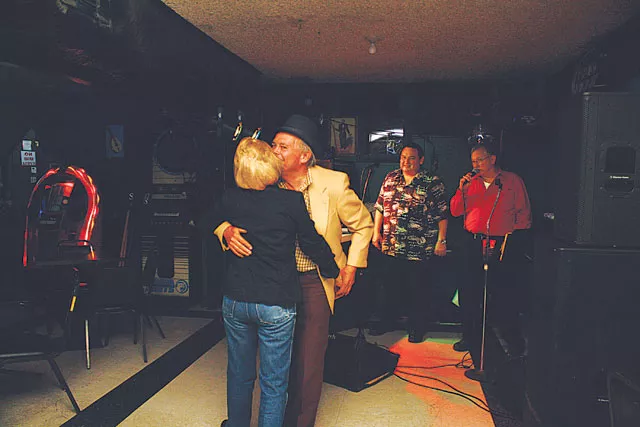 Veronica Luna
A couple dances the night away at South Town Tavern.
"I think this is the last Tejano bar," said Antonio Alvarez, a South Town Tavern regular. "I come here every Friday after work." Though only six months old, the venue inside the old Yolanda's bar on South Presa owned by Leticia and George Rivas already has a Cheers-like quality with regulars populating the bar and scattered tables. That is a tribute, perhaps, to the reputation of George Rivas, who previously owned George's Place off Blanco and the Downtowner off Houston. Rivas said he's again shooting for that friendly neighborhood bar vibe, hence, perhaps, the lack of liquor. (There is a limited selection of beer and wine coolers only.)
The music playing on the jukebox evoked sweet summer days with Al Green moaning "Let's Stay Together" and the Champs crying out for "Tequila." Later, George got his gang together for a set of covers like Wilson Pickett's "Mustang Sally" and some slow Tejano ballads. Then Alvarez is back to teach me how to dance to a ranchera (awkward at first, but I catch on).
I was a little skeptical of the Tavern due to a haphazard patio and the row of Porta-Potties in the parking lot, but appearances, as they say, can deceive. Here lives a lively place full of folks out to enjoy themselves after a hard day of work. As Alvarez confessed: "This is no meat market, but we all know who we are."
South Town Tavern
1603 S Presa
(210) 429-4896
southtowntavern.com
Vibe Everybody really will know your name
Best Use After work Tues-Thurs ($1.75 longnecks) or Fridays for live music
Prices $2.50 domestics, $3 imports, $3.50 wine coolers, $2 happy hour Tues-Fri 3-7pm