If you're passing by the comic shop and you notice the flag at half mast, it's because this week nerds all over the world are mourning the passing of two heroes who served their nations valiantly. We shall honor them for fulfilling the Valkyrie Creed (
Battle Beyond the Stars
): "Live fast, fight well, and a have a beautiful ending."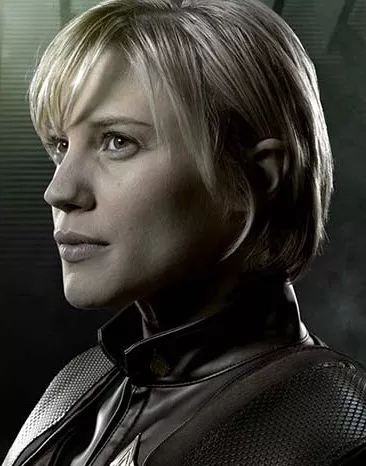 Rest in Peace, Captain Kara Thrace. You,
Battlestar Galactica
's resident hotshot, defended the human race with every cell of your arrogant, disobedient being. You piloted a
Cylon Raider
; you rescued the Arrow of Apollo from occupied Caprica; you slugged Colonel Tye in the kisser. You had your faults: You were responsible for the death of your lover and Commander Adama's son; you never quite broke free of
alcoholism
; you sabotaged your true love by marrying another; and in the end, you chose suicide as your escape - a nose dive into a galactic storm. But Kara, dear Kara, I have a feeling you'll be back. In your last moments, you spoke of crossing over to "they"who were waiting for you. Could it be true, as some of us suspected all along? Kara, are you a Cylon? Will you be reborn on the Resurrection Ship? By the Gods, we hope so.
And heavy are the hearts of free men at the fate of King Leonidas, ruler of
Sparta
and the central character of
300
, which the lucky ones pre-screened last night. The cinematography was as stunning as your self-sacrifice; the gore as disturbing as the harshness of Spartan childhood. And although the film was largely slow-motion action and patriotic bellowing, it was true, shot-by-shot, to
Frank Miller
's graphic novel. We clapped and whooped and sobbed through each battle. With your demise, you showed us what
Jet Li's Hero
did not: A champion, sacrificing himself for his people, by calmly accepting a downpour of 10,000 arrows.
And no I'm not ashamed I just wrote all that.
OK. Maybe just a little ...
Support Local Journalism.
Join the San Antonio Current Press Club

Local journalism is information. Information is power. And we believe everyone deserves access to accurate independent coverage of their community and state. Our readers helped us continue this coverage in 2020, and we are so grateful for the support.

Help us keep this coverage going in 2021. Whether it's a one-time acknowledgement of this article or an ongoing membership pledge, your support goes to local-based reporting from our small but mighty team.

Join the San Antonio Press Club for as little as $5 a month.