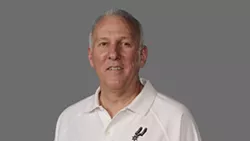 "Does anybody know we have a game against Memphis tonight," asked Coach Gregg Popovich facing a scrum of reporters in the bowels of the AT&T Center on Saturday night. After expressing disappointment in the quarter of a million dollar fine handed down by NBA commissioner David Stern to the Spurs organization, Coach Pop was understandably eager for basketball. Thanks to his decision to rest four players against Miami, San Antonio uncharacteristically grabbed the spotlight of the 24-hour sports news cycle with opinions weighing in from every corner of the hoops landscape.
Once the ball was in the air, it was Pop's players who did the talking with returning starters Tony Parker and Tim Duncan pumping in a combined 57 points, 19 rebounds, and 10 assists. Fresh legs prevailed as the Spurs outlasted the Grizzlies in overtime, securing a 99-85 victory to bring their record to 14-4 for the season. It was San Antonio's fifth straight win against Memphis since falling to the Grizzlies in the first round of the 2011 playoffs, and those in attendance basked in anti-Stern vindication.
For many in NBA circles, February of 2014, the date of Stern's impending retirement can't come soon enough. The commissioner's recent outrage over the Spurs rang hollow to fans in San Antonio as it probably did to those in Seattle. As for Coach Popovich, who continually boasts the merit of players who "get over themselves," this was another example that perhaps he needs to do the same. While San Antonio has won four rings under Pop, the Spur's last championship run was five years ago, and he has ultimately been outcoached in each closing playoff series since then.
"It's there -- and so are the other many years when we thought we had an opportunity, and we didn't," Duncan told David Aldridge last week, reflecting on last season's playoff meltdown. "It is what it is. You play long enough, you win some, you lose some, and you get your heart broken sometimes. We had a great run. Luckily enough we started well [this season] and we think we can make another push at it."
Spurs fan Anthony Ledesma backs coach Pop at Saturday night's 99-95 win over the Memphis Grizzlies.