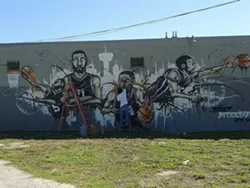 Southside fans are in for a treat. (via)
Redditors are always finding the best street art. Case in point: User BieberBoy posted this insane piece of Spurs fan art outside Paint Aftermath, a paint and graffiti supply store at 2705 W Southcross.
The store's Facebook page has images of artist DehvsR during the process. Go Spurs Go!