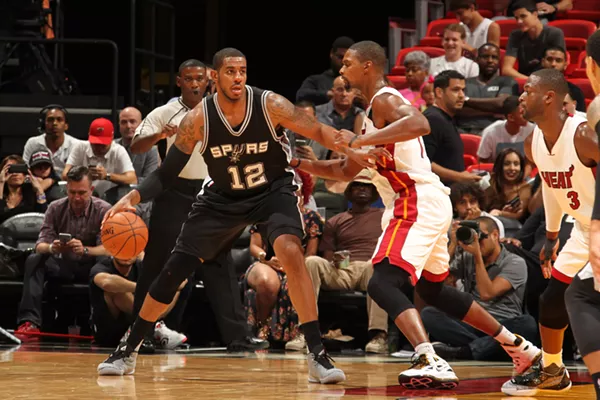 NBAE/Getty Images
NBA All-Star LaMarcus Aldridge rumbles to the paint.
After setting a new franchise mark for regular season
victories and matching the 1985-86 Boston Celtics' 40-1 home record, the San
Antonio Spurs are primed for the playoffs. Gregg Popovich's charges enter the
post-season well-rested and looking to avenge last year's disappointing first-round
knockout at the hands of the Los Angeles Clippers.


Awaiting San Antonio at the start of this season's tournament
are the rugged Memphis Grizzlies, who have fielded a record 28 players to reach
the second season. The Grizzlies remain burdened by injuries, with starters
Marc Gasol and Mike Conley limited to the sidelines. Veterans Vince Carter and
Zach Randolph have been key in their absence, and both Lance Stephenson and yes,
Matt Barnes have contributed.


The Spurs tip off the series at the AT&T Center facing
questions of their own: Can Danny Green escape the funk that has clouded his
season? Will he and Patty Mills rediscover their shooting stoke in time to make
a run at the Warriors? Is post-season LaMarcus Aldridge a reiteration of David
Robinson or Tim Duncan? San Antonio loves the playoffs because we all get to
find out together.

Pop's Spurs swept their four games against the Grizzlies
during the regular season, but a wounded bear is supposedly more dangerous.
Although the Grizzlies have shocked the Spurs in the first-round before, this
should be a short albeit memorable series. Expect Kawhi Leonard to continue his
NBA ascent as the Spurs settle into their playoff flow.

Spurs vs. Grizzlies
Game 1, Sunday, April 17, 7 PM, FSSW

Game 2, Tuesday, April 19, 8:30 PM, FSSW

Game 3, Friday, April 22, 8:30 PM, FSSW

Game 4, Sunday, April 24, 12:00 PM, ABC

Game 5*, Tuesday, April 26, TBD, FSSW

Game 6*, Thursday, April 28, TBD, FSSW

Game 7*, Saturday, April 30, TBD, FSSW

*If necessary