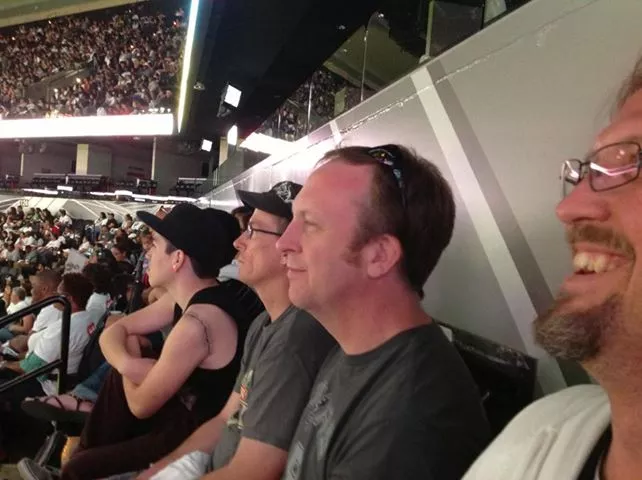 Credit: Bronwyn Wingo
Matthew Rose, musician-at-large, who I last saw dressed up like Ziggy Stardust serenading King William fair-goers with Bowie covers, has directed his songwriting abilities lately to creating "Spursery Rhymes" based on his beloved adopted basketball team, under the name Spursery Inc. He sent me a collection recently, and these are my favorite. Looking forward to what Game 4 inspires.
Sing a song of Six Flags
A pocket full of threes
Tony, Tim and Manu
Will bring you to your knees
When the lane was open
Manu began to swing
Wasn't that a tasty dunk
To throw down on the "king"?
***
Old coach Pop was a merry old soul
And a merry old soul was he
So he called for Kawhi and he called Danny Green
And he called for his super Big Three!
***
Cling, clang, brick
Bosh is feeling sick
Who's team's he on?
Some guy named LeBron
Who hit a three?
Anyone but he!
***
Tony P, Tony P, what you doing?
"I'm out in Miami to see the king"
Tony P, Tony P, what did you dare?
"I went right around him as if he weren't there!"
***
D Wade, D Wade
The crowds are all dismayed
About the way you've played.
The dunk that you displayed
Was only a charade,
The one good shot you made.
"Farewell!" you must be bade
I think they want a trade
You didn't make the grade
Considering what you're paid.
***
The Neal and the Danny Green were fighting for the crown
The Neal dropped six on the Heat and Green knocked seven down.
James tweeted "sad face" and Wade gave a frown,
Some gave them plum cake and drummed them out of town.
WHY CHANGE THE LAST LINE?
SPURSERY INC.